The Yearbook Means Something to Everyone: What Does It Mean to You?
CENTENNIAL HIGH SCHOOL – From pictures to quotes, the yearbook is a treasured collection of memories that many hold dear. from the hardworking yearbook staff to the students themselves, every single person who purchases a yearbook has a reason for doing so, from memories they treasure to people they want to remember.
"[Getting a yearbook] means being proud of the school you go to and being grateful about all the memories you make," says Aslyn Quijano, a senior at CHS.
While seniors are looking to recollect fond memories from a school that they intend on leaving next year, they are not the only ones looking to remember the past with nostalgia.
"I have a lot of senior friends and I won't be able to keep in contact with them and I wanna be able to have memories with them in the yearbook," says Alex Parriera, a junior at CHS.
And every year the students should be grateful for the yearbook staff, for without their hard work, there wouldn't be a school yearbook at all.
"I've worked hard [and] I've been extremely focused," says Danial Soltani, the Managing Editor of the yearbook.
And it's not  viewed as just a job either. The yearbook staff love what they do, and love working together to come up with a new yearbook design every year.
"Walking into the yearbook room is really a sigh of relief because the atmosphere is always positive," says Coral Manint, the Lieutenant Editor for the yearbook.
And she's not alone in thinking that way.
"You feel like you can be yourself," adds Shannon Roberts, the Editor-In-Chief.
It's not just the students, but also the entire yearbook community who is close-knit in their work, including their mentor, Ms. Pace.
"Ms. Pace is amazing. She's my favorite teacher," say both Coral and Shannon.
So from the hardworking staff who make the yearbook, to the students who treasure it even after they graduate, the yearbook means something important to all of them. So what does the yearbook mean to you?
For more information on the yearbook, visit their website. The yearbook is also available for purchase on the Jostens website.
About the Contributor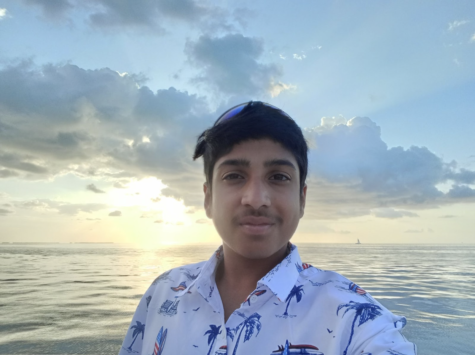 Rushil Kannery, Reporter
I'm Rushil Kannery, and I'm a senior this year. I love reading and writing, a passion which I brought into Cen10 News. I'm also a fan of mathematics,...