Black Friday
This past Thursday, the day to be grateful for the wonderful things and people in life, I lost the last little bit of faith in humanity I didn't know I still had.
People clawed at one another to get their grimy hands on the ginormous T.V. they simply can't live without. Yelled and fought for a tablet. One shopper was shot and killed at a Walmart in Reno, NV and another outside a New Jersey Macy's, according to BlackFridayDeathCount.com (yes, a real website).
And that was just Thanksgiving night.
Thanksgiving night, a time of family, food, and football (how 'bout them boys?). A time that only comes once a year, stolen from retail workers across America.
The tired souls of Walmart didn't get to watch Terrance Williams score an amazing touchdown. They were hard at work setting up, ordering crazed shoppers, then cleaning up.
JCPenney, in fact, opened at 3 p.m. on Thanksgiving Thursday. Best Buy and Macy's at 5 p.m. Walmart and Kohl's at 6 p.m.
Some stores, like Marshalls, TJ Maxx, and Homegoods were closed on Thanksgiving altogether, claiming the unheard of philosophy that employee's lives and family time matters.
Huh. They're human? How odd for companies to actually respect their workers.
However, a shift is beginning in retail, marking the possible end of low-quality Black Friday brawl videos.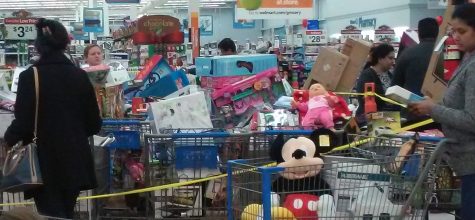 Cyber Monday is the new Black Friday.
According to bankrate.com, just 23 percent of all U.S. adults shopped in stores the day after Thanksgiving, down from 28 percent in 2014. Twenty-seven percent of adults say they plan to shop online the Monday after Thanksgiving, up from 25 percent in 2014.
Retail experts say consumers no longer feel an urgency to wake early and battle post-Thanksgiving crowds in the name of doorbuster deals. They can find those deals today, many of which had been there all month long, and can continue to find them in the run-up to Christmas.
Indeed, it does appear Black Friday in the traditional sense is fading, which is bad news for those of us who enjoy taking pictures of the winding line outside of Best Buy then standing three hours in line at Kohl's.
Yes, Black Friday brings out the worst in humanity and is stressful for everyone, especially the forgotten employees who are unwillingly in charge of controlling this madness.
Especially with this shift to cyber shopping, opening at 3 p.m. doesn't really make sense anymore, from a logical and moral standpoint. Instead of being grateful on Thanksgiving, something we don't do enough of in general, we're willing to kill each other for a Samsung.
This is a call to retail companies. End the paradox.