Teacher Feature: Mrs. Rosenfeld!
CENTENNIAL HIGH SCHOOL- Have you ever wondered how long you'd survive in a zombie apocalypse? Mrs. Rosenfeld, the AP Government and African American Studies teacher at CHS, believes she wouldn't last that long. She has, however, lasted a long time teaching at Centennial: 17 years to be exact. 
"It's an opportunity to be a part of so many young peoples' lives, which is very cool to me," Mrs. Rosenfeld stated. 
Mrs. Rosenfeld has a large love for teaching, made clear by the fact that she's been one for 22 years. She remarked that she especially loves government and economics: it's an area she's always had an interest in and wanted to pursue. Surprisingly though, she actually hadn't planned to be a teacher until college. 
"I met somebody who was a lawyer who later went into teaching, and she said 'as a teacher you build things and as a lawyer you break things down'," Mrs. Rosenfeld conveyed. "It made me so grateful that I went the path that I did; I didn't want to base my career off of breaking things down."
She does indeed strive to build things as a teacher. Mrs. Rosenfeld, along with AP Economics teacher Mr. Hirsh, have floated the idea of combining the content of their classes, as she is passionate about both subjects and believes they are complementary.
"I wish we could figure out a way to integrate [government and economics] into one course," she expressed. "But the way the courses are written right now it wouldn't work out." 
Although this idea isn't feasible as of right now, Mrs. Rosenfeld is still happy teaching what she loves. She thoroughly enjoys working at CHS and does her best to create a comfortable and cooperative learning environment for all her students. 
"I've always thought that education is something to be shared, and so I like that collaborative culture that we have here [at CHS]," Mrs. Rosenfeld concluded. 
About the Contributor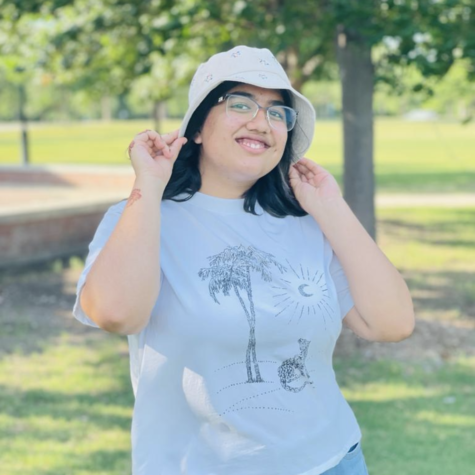 Uswa Saeed, Editor-in-Chief
Hi! My name is Uswa Saeed. I'm currently a 12th grader at Centennial High School, and this is my third year writing for Cen10 News. Writing has always...