Centennial High School Sweethearts Feature
CENTENNIAL HIGH SCHOOL- The Sweethearts at Centennial High School are an audition-based competitive dance team: it's the addition of a dance and drill team. The Sweethearts perform on game days and pep rallies, and are known for their high spirit, advanced dance choreographies, and performances. There are four positions on the team: dance officers, social officers, line members and managers. The dance officers assist with choreography, cleaning, and polishing dances. The social officers are known to do the behind the scenes duties: they help establish the team culture, and they plan socials, games, and activities. The line members are the members that hold no leadership positions but are simply there just to dance. The managers help organize the sweethearts and help prepare for games, this role is interview based. The other three positions are audition-based.
The Sweethearts are required to show up to practices, and if they miss two or more practice they will not be able to participate at the games. In the fall, they have to attend two morning practices, one afternoon practice, and a 30 minute to 1 hour morning practice on game days. In the spring, they have three morning practices every week. Over the summer the sweethearts have line camp in July, where they learn choreographies and material for football season. Once football season begins, they begin reviewing and polishing these dances for their performances. Throughout football season the sweethearts have three half-time routines and they have two to three pep rally routines, each one taking three to four weeks to polish and perfect.
Mrs. Gonzalez is the Sweethearts director who puts all her time and effort into the dance program at Centennial High School. Mrs. Gonzalez was a part of the drill team at her high school and was captain her senior year. She later became a part of the drill team at Kilgore College and started dancing at a collegiate level. She helped provide all the information above about the Sweethearts program and during our interview we talked about her favorite part of being a drill team director.
"I've always wanted to be a dance teacher and a drill team director. Just being here and living out that part of my high school dream is really really fun. What makes it the best is seeing people find and achieve personal greatness, personal success, and personal excellence. When you watch somebody work really really hard for it and that's what I think makes sweethearts so unique is that we are all equally working so hard towards the things that individually matter and pertain to us," Mrs. Gonzalez expressed.
Additionally she added, "Yes, we are all working on the same dance but what you need to accomplish for that dance is different person to person. So when you see someone start and then when you see it on Friday and you see how much growth they've experienced just in that one week, it's so rewarding and it brings me so much joy because I know how much work they put in and how hard they worked to get there."
The team bond between the Sweethearts is very strong; Mrs. Gonzalez encourages the girls to spend time with people they don't interact with outside of school.
"Something that really matters to me is intentionality and investment in other people. Number one, we need to be intentional about everything we do if we are going to be together everyday for the whole year. How are we going to be intentional with our time so that our time here matters and it means more and it is more than just dancing. It doesn't matter if you are a manager, a line member, or a leadership member, that level of intentionality is so important for everyone," Mrs. Gonzalez said.
Ava Gage is the team captain of Sweethearts and is currently a senior. She's in charge of leading the team through each dance and performance, maintaining close relationships with each team member, and constantly helping each of her teammates to grow. Throughout the dance, she creates formations, helps clean the dance along with the other officers, and leads onto the stage or field before a performance.
"In the past few years, I've had so many memories but my favorites come from performing with my teammates every Friday night and during football season. Presenting the team onto the field and dancing with my best friends are experiences that I will never forget. It is truly such an amazing feeling to perform for my school as they cheer me and my teammates on." Ava Gage added
Ava added, "Sweethearts is truly such a positive environment and the bonds I have created are unlike any other. I have met some of my best friends and made some of my favorite memories while on the team. We genuinely support one another through each challenge we face, and I know my team will always be there for me when I need them."
Arienne Ortiz is the Sweethearts' historian and she is currently a junior. She spoke about team bonding and the importance of respect on the team.
"Every year we go on retreat for team bonding and all sorts of fun activities that are outside based. This year was the first time we've gone in a couple years due to covid. It's super fun and we do it right before school starts so it helps us unite the team and helps us get to know each other. We also do a "social time" in our practices which means we play games and socialize in order to make those bonds and connect with each other." (Arienne Ortiz)
Arienne added, "Respect is very important and that is given but you need to be willing to follow norms and have respect for people and things. We always say "yes ma'am" as a sign of respect and letting people know that we understand them when information is given. If you're not saying "yes ma'am" it is considered disrespectful, according to our norms."
If you are looking to try out next year, there is a process. You may see flyers or social media posts regarding an interest meeting for Sweethearts, and at the meeting you'll need to be present with a parent. It's an introductory meeting and an overview of Sweethearts, the expectations, and the requirements that come with it. After the meeting there will be tryout information and Monday to Thursday there will be a clinic where you learn the dances and kick routine. On the following Friday, you'll have to try out for the dance, kick routine, and the split routine. If you are looking to get started, but don't know where to start, sign up for the training class or Dance 1 and come speak to Mrs. Gonzalez in room G113 for more information.
Overall the Sweethearts work insanely hard, day and night to put up an amazing performance for us at pep rallies and game days. Thank you so much to Mrs. Gonzalez for being an amazing director who is always looking out for her dancers and hoping for growth. If you are looking to join Sweethearts make sure to speak to Mrs. Gonzalez and follow their Instagram for updates: @sweetwhaat.
About the Contributor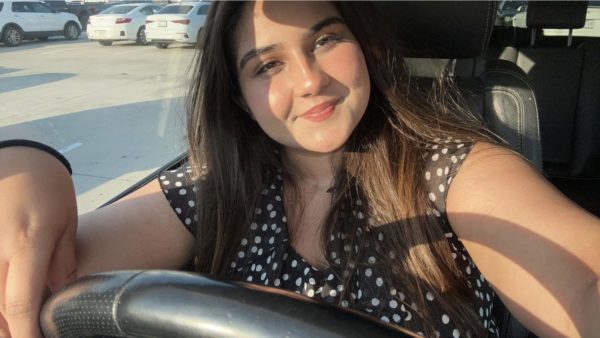 Sana Hajidamji, Editor-In-Chief
Hi, my name is Sana Hajidamji, I am currently a senior at Centennial High School. I am from Los Angeles, California and I moved to Texas in 2020. I have...