No Club? No Problem!
CENTENNIAL HIGH SCHOOL- When you think of clubs at Centennial, what comes to mind? BPA, DECA, and HOSA are some of the many popular choices that people will jump to first. However, there are various options for clubs at Centennial that often go unnoticed simply because people don't know about them. As many first meetings are happening this month, the officers of some of these clubs had more to say about their clubs' goals and why they were created.
"[We] started Girls Who Code with [our] peers as a safe place for girls, like myself, to expand their programming knowledge and take their first steps in closing the STEM gender gap," Girls Who Code Co-Founder Prisha Srivastava explains.
Girls Who Code, a national foundation with smaller branches at schools, aims to help women gain computer science experience and become leaders in the field. The chapter here at CHS is passionate about doing just that, and they love to help girls with excelling in these pathways. Whether you have computer science knowledge or not, Girls Who Code helps anyone and everyone find a place in their club.
"Anyone who has an interest in coding and wants to advocate for the representation of women in STEM careers should definitely join this club," GWC Co-Founder Anushka Khatri emphasizes.
If you would like to join Girls Who Code, you can join the Remind at @gwc-chs or talk to Mr. Barnette in A115. Representation of women in computer science and STEM is important, but so is the representation of the different cultures at our school. This is something the president of the Bollywood Dance Club understands and strives to help.
"People should join this club to not just learn dance but to… appreciate their culture, see their growth in their dance journey, and feel confident in their abilities," President Shanvi Mathur says.
Inspired by a passion for South Asian music and dancing, the Bollywood Dance Club was formed to help people learn how to dance and connect with their culture through the activity. If you are interested in BDC, you can join their Remind at @titanbdc22 or speak to Mr. Kallus in B219 for more information. This club is definitely a great opportunity for those wanting to gain knowledge on dancing and culture while also having fun.
"[Our] goal is to teach the meaning behind each dance we learn," Mathur mentions. "The members will learn how and why it is significant to know the background of that dance before actually learning it."
In line with the arts, Centennial also has an Art History club that focuses on providing students a place to learn about art throughout the years and its rich culture.
"Art history is always thought of as a very inaccessible and boring field – we wanted to break that stereotype and find creative engaging ways to learn about art history," President Athul Mohanram states.
There's no requirement to be in the Art History class to join the club: anyone can join regardless of whether they have prior knowledge or not. With fun activities and a comfortable environment for learning, Art History Club may be a good fit for you. If you'd like to learn more, you can join the Remind at @6b3hg9 or visit Mrs. Moore in B123.
"The main goal of the club is to find unique ways to apply different art history concepts and learn about art appreciation," Mohanram adds.
The Art History Club isn't the only club that exists for appreciation. The Muslim Student Association, shortened as MSA, emphasizes learning about and appreciating Islamic culture.
"We had dreams of creating a safe space for Muslims to collectively express their religion, and accomplished exactly that," President Maryam Subedar conveys. "Through the club, many students were able to meet other Muslims in their grade, and life-long friendships were spawned."
MSA has already helped Muslims at the school by doing things such as getting them access to a place to pray. They make sure Muslims are represented at Centennial and help teach other non-Muslims about what Islam is to break stereotypes and boundaries. If you're interested in joining, you can join their Remind at @cen10msaa or see Mr. Richards in B102.
"Others should join too, even if you're not Muslim, to learn more about the religion, meet new people, and simply have fun!" Subedar says.
All of these clubs are unique in their own right, and with all the diverse clubs such as these at Centennial, there is a community here for everyone. There is also an extensive list of all the clubs at CHS if there are more clubs you would like to explore.
About the Contributor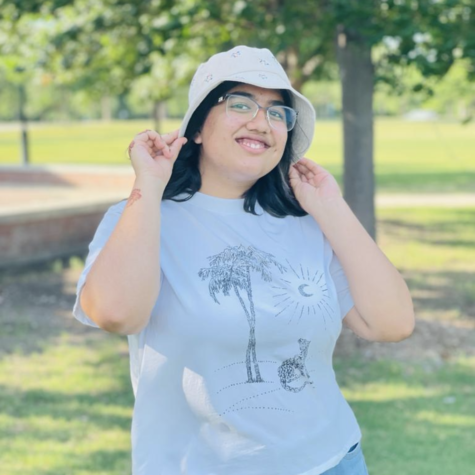 Uswa Saeed, Editor-in-Chief
Hi! My name is Uswa Saeed. I'm currently a 12th grader at Centennial High School, and this is my third year writing for Cen10 News. Writing has always...