Why Bollywood Movies Are Worth Watching: Exploring Culture and Entertainment
FRISCO, TEXAS – Bollywood, the Hindi film industry based in Mumbai, India. Bollywood is one of the largest film industries in the world, producing hundreds of movies every year and entertaining millions of people worldwide. Over the years, the industry has established itself as a significant player in the global entertainment industry, and it continues to grow in popularity and influence. Bollywood films are known for their elaborate song-and-dance sequences, colorful costumes, and over-the-top storylines. While some people may think that Bollywood films are not for them, there are several reasons why everyone should give them a chance. 
 Bollywood movies are a great way to explore Indian culture. Bollywood films often showcase the vibrant and diverse cultural heritage of India, including its music, dance, fashion, and art. Watching a Bollywood movie can give you a glimpse into the traditions, customs, and beliefs of India, and help you understand and appreciate its rich history and cultural significance. Bollywood films offer a unique perspective on life in India. Many Bollywood movies tackle complex social issues such as poverty, corruption, gender inequality, and offer a portrayal of life in India. Watching a Bollywood movie can help you gain a deeper understanding of the challenges and opportunities faced by the people of India. For example the movie "Chake De" stars Shah Rukh Khan which shows life in India regarding religion and how difficult it is for women to be successful, especially if they are a athlete. 
Also, Bollywood films are entertaining and fun. They are often full of drama, romance, action, and comedy, making them a perfect escape from the stresses of everyday life. With their catchy music and energetic dance sequences, Bollywood movies are a great way to lift your mood, and they can be enjoyed by people of all ages. As most Bollywood films are made in Hindi, watching them can help you develop your language skills and improve your understanding of Hindi grammar and vocabulary.  But if you'd rather just enjoy the storyline, most Bollywood movies are available on many platforms that do offer subtitles. 
Additionally, Bollywood films have a unique charm and style that sets them apart from other film industries around the world. From the dramatic acting to the larger-than-life storylines. Watching a Bollywood movie is a unique cinematic experience, with rich and colorful scenery and addicting soundtracks. The music of Bollywood films is an essential element of the movies, and often the soundtracks become as popular as the films themselves. Many Bollywood songs won international awards and have received love from millions of people. For example the song "Naatu Naatu" in the very well known movie "RRR" won best song at Golden Globes, this song was up against music superstars like Rihanna, Taylor Swift and Lady Gaga. 
Bollywood has produced some of the most iconic actors in the history of Indian cinema. These performers have captured the hearts of millions of fans around the globe with their captivating performances and incredible talent. But just like any other industry, Bollywood has its fair share of nepotism. In Bollywood, nepotism has been a debated topic in recent years, with many actors and actresses speaking out about the challenges of breaking into the industry without a connection. One of the reasons why nepotism is so common in Bollywood is that it is largely a family-run business. Many of the top production houses are owned by well known film families, such as the Kapoors and the Johars. Although, many actors and actresses have worked hard to prove themselves as talented performers. For example: Kartik Aaryan, Kriti Sanon, Sidharth Malhotra, Kiara Advani, Shah Rukh Khan, Ranveer Singh, Akshay Kumar, Deepika Padukone, and many more. 
Nepotism is a complex issue in Bollywood, and one that is unlikely to be resolved overnight. Most actors and actresses have benefited from their connections though these actors have won many hearts. For example: Janvhi Kapoor, Alia Bhatt, Sara Ali Khan, Varun Dhawan, Sonam Kapoor, Ranbir Kapoor, Aamir Khan, Tiger Shroff, and many others. Most large Bollywood actors, producers or directors have kids that are more likely in the industry. 
If you are looking to get into Bollywood movies and don't know where to start, here are some of Bollywood's iconic movies. Firstly, "Dilwale Dulhania Le Jayenge", which was released in 1995 and is a classic romantic movie, starring Shah Rukh Khan and Kajol, this is a must-watch for anyone new to Bollywood. It's a heartwarming story of two people from different cultural backgrounds falling in love and fighting to be together against all odds. Secondly, "3 Idiots" a  comedy-drama movie released in 2009, starring Aamir Khan, Kareena Kapoor, and R. Madhavan. "3 Idiots" is about three friends who meet in college and go on a journey of self-discovery. The movie is a powerful commentary on the education system and the pressures of success. Another iconic movie is "Bahubali " which came out in 2005, this epic action movie, starring Prabhas, Rana Daggubati, and Anushka Shetty, is a visual treat that takes viewers on a journey to a fantastical kingdom. The movie is known for its grand scale and stunning visual effects and is a must-watch for anyone who loves action and adventure.
Some of the newer movies that I recommend are: "Kabir Singh" (2019) This romantic drama movie stars Shahid Kapoor as a self-destructive medical student who falls in love with a fellow student and struggles to deal with his emotions. "Gully Boy" (2019)  This musical drama movie follows the story of a young man from the slums of Mumbai who dreams of becoming a rapper. "Shershah" is a 2021 film about a biographical war which stars Sidharth Malhotra as Captain Vikram Batra, a war hero who was awarded the Param Vir Chakra posthumously for his bravery during the Kargil War. "Bhool Bhulaiyaa 2" (2022) is a Bollywood horror-comedy movie, which is the sequel to the 2007 film Bhool Bhulaiyaa. By pure coincidence, Ruhaan Randhawa (played by Kartik Aaryan) meets Reet (played by Kiara Advani) in Himachal Pradesh. They miss their bus to Chandigarh, where they were headed to attend a music festival, but later find out that the bus they were supposed to go on met with an accident and all passengers died. After a situation, Reet decides she can't tell her family that she's alive. Reet and Ruhaan then sneak into the old mansion that Reet used to live in. Secrets and stories unfold in the mansion where they eventually find out that the mansion is haunted. This movie is personally one of my favorites and it's hard to explain without giving too much away, the storyline is set up so creatively and it's definitely worth your time. 
Bollywood has been around for over a century, and it continues to evolve and grow with each passing year. With new and exciting movies being released all the time, there has never been a better time to start exploring this fascinating world of cinema. If you're looking for a way to engage yourself in the rich and vibrant Indian culture, filled with stunning dances, captivating storylines and iconic actors, then this is a perfect time to be introduced to these films. Whether you are a fan of romance, action, drama, or comedy, there is a Bollywood movie out there that will suit your taste.
About the Contributor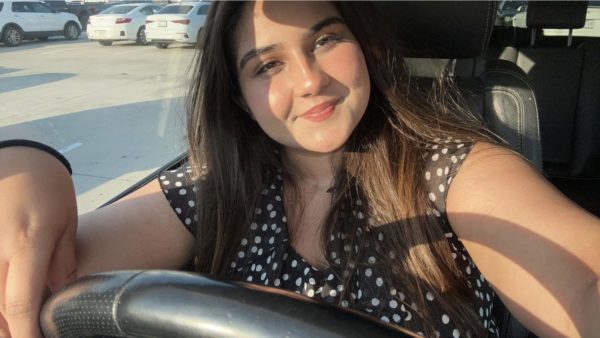 Sana Hajidamji, Editor-In-Chief
Hi, my name is Sana Hajidamji, I am currently a senior at Centennial High School. I am from Los Angeles, California and I moved to Texas in 2020. I have...