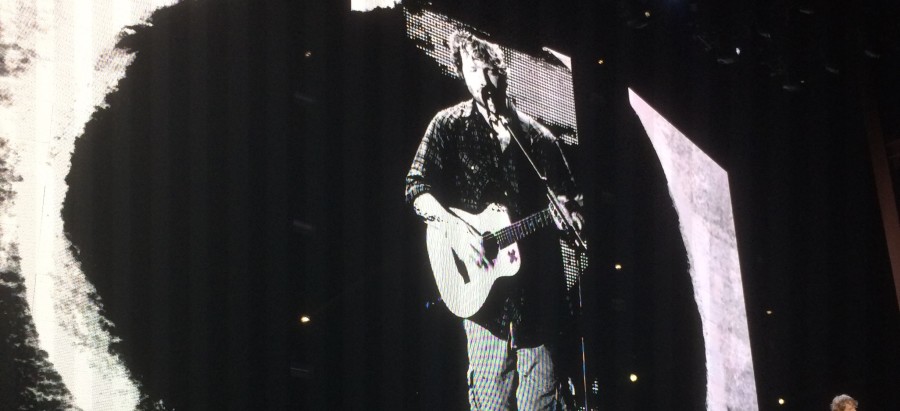 I'm a Mess (for Ed Sheeran)
September 17, 2015
Insane Incidents
An accumulation of events that occurred at the Ed Sheeran concert.
On Sept. 5, 4 girls–and thousands of others– experienced one of the best nights of their lives: the Ed Sheeran concert. Toyota stadium packed more than 29,000 full with Ed lovers jumping and yelling like their lives depended on it.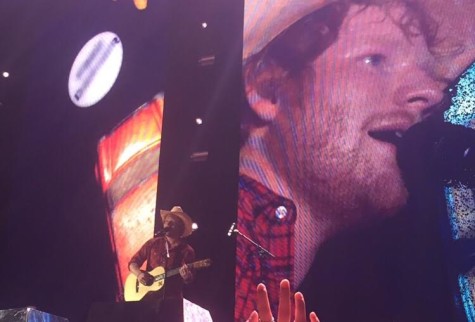 The concert overall was a 10/10! But..beforehand things got WAY out of hand. Thousands of teenagers waiting in mile-long lines for hours just to get in. Thankfully our fellow reporter, Muthuveera, saved us spot at the front of the line. People driving hundreds of miles, waiting for 32+ hours, and literally standing till they dropped. The stadium provided an inadequate amount of water for us.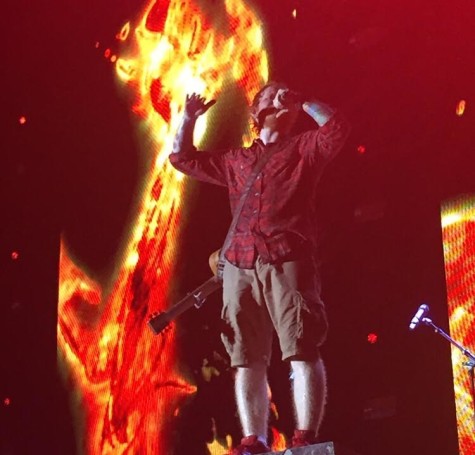 Before we entered the stadium at 5:30, they had allowed food to be delivered, tents, and drinks of all kinds. Once you entered the 'beloved' Toyota stadium, you went through a full scan..only to come out with everything but water–In 100 degree heat–. Girls dropping like flies from dehydration. Water was at the entrance of the stadium and nobody would be caught dead leaving their sacred spot in the first 10 rows. Thankfully, the security didn't throw out what I had left of my water bottle but that sure wasn't gonna last me 5 more hours. While standing shoulder to shoulder with complete strangers, dripping in sweat, my only thought was to try not to faint. People couldn't see it coming. You were fine one second and the next thing you knew, you were lying on the floor while the paramedics rampaged through fangirls to lift you out. This continuing on for 1 more hour till about 15 people had gone out. Finally the stadium figured this wasn't safe and sprinkled water on the first couple rows with a hose every 10 minutes– despite the fact it only lasted 30 seconds till it got dried up by the sun. Then you would just try to survive till the next round.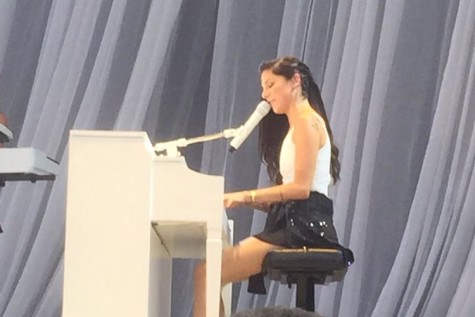 After what felt like a life time, the concert had started and most of us had forgotten about all else. There she was. Christina Perri opening the concert. She was really there, 25 feet away, and more angelic than ever. After she left the stage, we waited about 30 to 60 minutes before Ed came out, and all our thirst came rushing back to us. Unfortunately people were still dropping all over the place–this actually continued for the rest of the night–even while Ed was performing. Ed's performance was amazing. We jumped, we screamed, we sang, we cried. His graphics while he sang really added to the mood of the concert, making every girl completely fall in love with him and his breathtaking voice for the millionth time.  Although we suffered some hardships, the concert was A1 and completely made up for it.
I don't think I will be going to another general admission concert for a long time, but the experience is one I will NEVER forget. I mean how often do you get to stand 25 feet away, seriously 4th row, from one of your idols.
PCD (Post-Concert Dehydration)
From the being front row at Ed Sheeran's biggest North American concert to the excruciating heat and dehydration known as the general admission section, Ed Sheeran had its ups and downs. Throughout the night  "we made these memories for ourselves" and made friendships in the most unsuspecting ways.
As I arrived at 3:02 p.m. on Saturday, I had 2 hours and 28 minutes before the gates would open, 2 hours and 28 minutes to wait in the heat and 2 hours and 28 minutes until I (and thousands of other people) would be sprinting on the field to get the closest to the stage they could.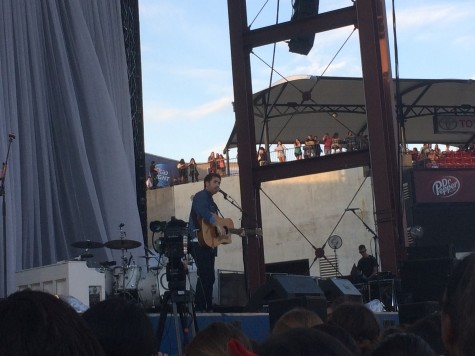 At 5:30 when the gates opened the pushing and shoving began. No water bottles, umbrellas, selfie sticks and any other potential "weapons" were allowed in. So, thousands of teenagers sprinting down the FC Dallas field towards the stage and standing in the sweltering 95 degree heat (though what felt like 3000 when being packed as close are sardines) for the next 6 hours with no water, sounds like the equation for dehydration to me. And the truth be told. As everyone was eager to be close to the stage, no one would dare leave their precious spot to go get something as silly as a glass of water or a powerade. So what happened? Security hosed us down. The general admission section was sprayed with water and eventually cups with water were passed around and everyone took a sip out of the community cup. Though it wasn't the cleanest or safest thing to do it was necessary to stay hydrated and prevent health concerns later in the concert.I made friends with a group of six friends that drove in from Oklahoma. The eight of us, the six of them and my friend and I, banded together and shared water, protected each other and helped each other move to the front of the crowd toward the stage.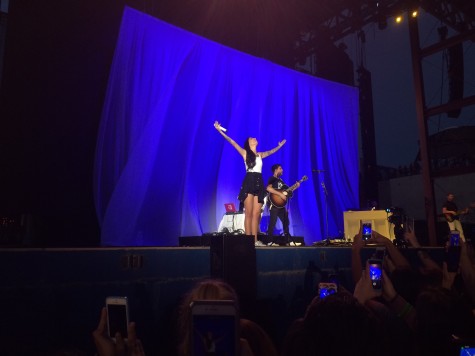 Around seven o'clock Jamie Lawson entered at center stage and started the concert off. He created an enthusiastic vibe that the audience carried throughout the night. He sang a few of his songs that had not been released yet and got everyone excited about the rest of the concert ahead. After Lawson finished his set the crew shuffled things around the stage and the sun began to set. As the sun was falling, Christina Perri made her entrance.
During her energetic performance, not only was the crowd stoked, Perri was ecstatic, she was jumping around on the stage and her overall attitude reflected how grateful she was to perform. Perri connected with the audience through her music as well as just talking to us. As she closed her set, she got the crowd pumped for the headliner, Ed Sheeran.
There was an hour gap between when Christina Perri ended and when Ed Sheeran began. Within that time the general admission section was once again hosed down and the community cup was passed around. Trying to pass the time, the GA section came together and sang songs such as "Drag Me Down" by One Direction and "Photograph" by Ed Sheeran.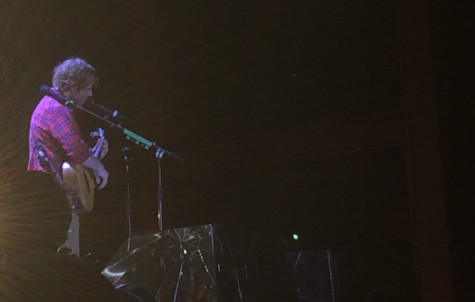 Everyone was anxious for the headliner to make his grand entrance. When Sheeran finally entered, he opened with "I'm a Mess" followed by "Lego House". It's surprising that Sheeran can do so much with so little, he played the entire concert with just his guitar and mic. It was astounding. As the concert progressed the effects of not drinking water and standing in the heat for 6 hours began to set in. Girls were passing out left and right and were being hoisted over the barrier and carried off to another section where they would be treated. People were dropping like flies, the amount of people passing out was scary. Towards the end of the concert, as I was pressed up against the barricade in the front row, Sheeran threw his water bottles out to the crowd so we could pass them around and get a little to drink. It was obvious that Sheeran was light hearted guy who just wanted to have fun while performing and that was evident throughout his entire performance. As the night came to a close Sheeran ended with an encore consisting of a "You Need Me, I Don't Need You/ In Da Club/ Know Yourself" mashup and "Sing" that hit it out of the park. 
Not only did Sheeran put on a breathtaking show, the graphics behind him were a show themselves. They depicted different images of Sheeran as he grew up, music videos, drawings and animated pictures that morphed to tell the story of the song being sang.
Besides the dehydration and unruly heat. Ed Sheeran was an experience that will not be forgotten. The music was even better live than recorded, friendships that will last a lifetime were made and overall being front row to Ed Sheeran made memories that will stick around forever.  
Thank You For Sheeran Your Beautiful Voice
Ed Sheeran's concert was accompanied by a variety of engaging graphics.
Ed Sheeran is the only ginger that's worth $69.00. I'm not a gold digger, but 30,000 people in the audience x $50 a ticket makes him my sugar daddy. His vocals quenched our thirst, especially with his performance of his hit "Thinking Out Loud" (one of my favorites). His interaction with the crowd made the audience feel as if he keeps us in a special place in his heart (even though he's been touring for 407 days).
  The special effects in the concerts was the cherry on top. The intro before the program were video snippets in a polaroid frame of little Ed to teenage Ed, playing his guitar, singing with his pre-pubescent voice, and entertaining crowds of 15 people. And then these videos transitioned to videos of him performing at the closing ceremony of the 2012 Olympics and sold out tours. The graphics in the background of each of his performance engaged his with his music. For example, when he performed "I See Fire", a song that was featured in the soundtrack of  The Hobbit: The Desolation of Smaug, the scene where the dragon was attacking the town Esgaroth in the movie. In another song, "Take It Back", where Ed is spitting lyrics faster than my mom, the background was a very accurate VU meter showing the audience's volume level, than it transitioned to laser outlines of Ed while he was riffing at his guitar. The graphics were amazing yet limited because his concerts are all about the music and not the "wow" factor. Overall, this concert experience literally beat the past 16 years of my life. That night I was in deep denial that it was over and I still am. But Ed if you're reading this, you are beautiful and thank you for sheeran your beautiful voice.
British Invade Frisco
Ed Sheeran Brings the House Down at Toyota Stadium
With the rush of major new British artists on the music scene such as Ellie Goulding, Jessie J, Sam Smith, and three-fourths of One Direction, (Niall is Irish) it is no surprise that Ed Sheeran has completely taken over the music industry. What is surprising, however, is that he came all the way to our very own Frisco, Texas to perform for a crowd of over 30,000 people—Ed's biggest North American show yet. I had the great honor of witnessing his amazing talent live on Sept. 5, and can honestly say it was one of the most incredible and memorable nights of my young life. And I've been to four One Direction concerts. That's right, one ginger man with a guitar and red sneakers made me forget the biggest British/Irish boy-band on the planet even existed, well, at least for a night.
As my friends and I entered Toyota Stadium, the first thing I noticed was the surprisingly diverse group of people that were present. Ages varied from elementary school aged children to forty, maybe even fifty-something-year-olds. The vast majority were, as I expected, young people in their teens and early twenties, dressed in a Coachella-worthy fashion with flower crowns, heeled ankle boots, fringe, and lots and lots of fedoras. Everyone exuded an ora of peace, creativity, and a raw love for good music. I instantly knew I'd come to the right place.
After we'd bought some concessions, t-shirts, and had miraculously made our way through the swarm of people to get to our seats, my friends and I settled into the overpowering emotion that seemed to be entrapping everyone: excitement. And I believe it's safe to say that not one of us was disappointed. The crowd was hyped up with anticipation before Mr. Sheeran even stepped onstage as a video displayed on the large screens above and beside the stage showed childhood videos of Ed performing. Within a few minutes, we watched him grow from a gawky young boy in glasses to a powerful, soulful lyricist with serious guitar skills and the voice of an angel. And then he appeared. There in the flesh, Ed Sheeran nonchalantly walked onstage, seemingly out of nowhere, wearing a cowboy hat and a huge grin. I admit I screamed like a little girl.
He opened up with one of my all-time favorite tunes, "I'm a Mess," and my friends and I instantly lost ourselves in the music, singing along with every note and strum of his guitar. I was surprised that we were the only ones within our immediate vicinity who were standing, clapping, jumping, singing, screaming, or showing any kind of intense emotions. I admit I was especially boisterous, and I could practically feel the slightly annoyed, slightly amused stares of those around us. But I didn't have a care in the world.
Throughout the show, Ed would take small breaks to talk with the audience and give us a glimpse of how humble and kind he is. The music throughout was unbelievably powerful and soulful and full of the emotion that you just can't get by listening to his album. The most incredible part of it all was that he was just one man with a guitar. He did have the help of a pedal on the floor that would repeat a recording of whatever Ed had just sang into the mic, enabling him to add layers to his songs and harmonize with himself, which was especially angelic and powerful during "I See Fire." Besides doing many songs from his first album, "+" and his second album "X," (will his third be "-"?) Ed also did covers of "Superstition," "Ain't No Sunshine," "Loyal," "No Diggity," "Feeling Good," and even brought his opening act, Christina Perri, up on stage to perform "Be My Forever" together, and it was absolutely beautiful.
Some of the most special moments of the performance were when Ed sang "Kiss Me," one of his most romantic songs, and "Don't" which he extended with an extra verse that is not featured on his second album. His performance of "I See Fire" was also extremely soulful and moving. However, the most incredible moment was when he sang his big hit, "A Team," and everyone in the crowd took out there phones and lit up the crowd like a sea of lights. It truly was an enchanting experience.
Finally, Ed gave us all the privilege of performing an encore, which consisted of "You Need Me, I Don't Need You," mashed up with "In Da Club" and "Know Yourself" and finally ended with "Sing." I confess I got so into the music at the end that I was rocking out, head bobbing as if I were at a heavy metal concert. I suppose I really am an Ed Head, as some super-fans call themselves. Overall, it was a night of pure magic, and reminded me what really good music should be like. I'd like to thank Ed for an absolutely enchanting performance. I hope one day to be able to meet him face to face and be able to thank him in person and tell him how Sheeranious he is. That's a new word my friends and I just had to come up with after witnessing a performance that was so beyond perfect, it was Sheeranious. It may look hard to pronounce, but it will catch on.
"We Keep This Love in a Photograph"
An assortment of pictures that were taken throughout the Ed Sheeran concert.
As stated in Ed Sheeran's hit song "Photograph," all the pictures we took and the memories we made are now held in a photograph.
I'm a Mess (for Ed Sheeran)