A Seasonal Treat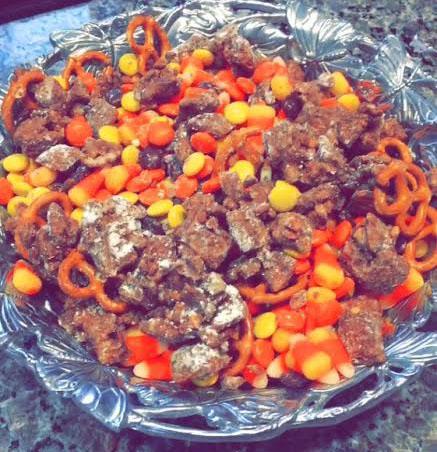 Hosting a holiday party can be stressful; decorations, food, & activities can start to add up. Well Cen10 News has got the yummy treats part covered.
Muddy Buddy Mix!!!!!
Ingredients:
9 cups Rice Chex Cereal
1 cup semi-sweet chocolate chips
1/4 cup butter
1/2 cup peanut butter
1 tsp vanilla extract
1 1/2 cups powdered sugar
1 1/2 cups seasonal candy
1 1/2 cups Reese's Pieces
2 cups pretzels (can be the minis, regular, sticks)
Seasonal Candy Ideas: 
Halloween- Candy corn
Christmas- Peppermints
Valentines Day- Candy hearts
Steps: 
Pour Chex Cereal in a large bowl and set aside.
In a microwave safe bowl melt chocolate chips, butter and peanut butter together on high for one minute.
 Stir and return to microwave, microwaving in 30 second increments until melted together and smooth.
Stir in vanilla.
Pour chocolate-peanut butter mixture over the cereal and gently stir to coat.  I like to put on a pair of kitchen gloves and use my hands to toss the cereal in the chocolate so I don't crush it.
Place cereal in a large zip lock bag, pour powdered sugar in, seal and shake until evenly coated.
Spread cereal out on to wax paper and let cool completely.
In a large bowl combine cereal, seasonal candy of your choice, Reese's Pieces, and pretzels. Lastly, mix it all together.
 Store in an air-tight container.
There you have it! A delicious, mouthwatering treat to make your holiday party the party of the season. Enjoy!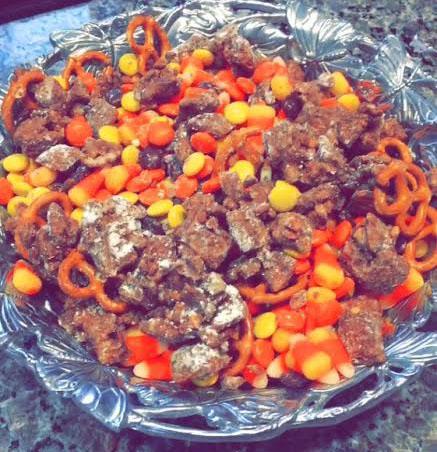 Recipe found at : http://boysahoy.com/halloween-muddy-buddy-mix/