When We Run Out, They Run In
The all-too-familiar sounds of the sirens in the city can be heard during class lessons, outdoor activities or even disrupt our sleep. It is such a frequent occurrence in Frisco, that kids don't pay any mind to them anymore and may  have forgotten how important the Fire Department actually is.
A career in the Fire Department is a solid option for the future for high school students. At recent visit to one of our stations, I learned what it takes to get a job in the Fire Department.
Chief Gillette is the Fire Marshall and Chief of the Frisco Fire Department. His job consists of making sure that the structure of buildings is up to fire code and pass the inspections. He also enforces codes and state laws that apply to fires and safety.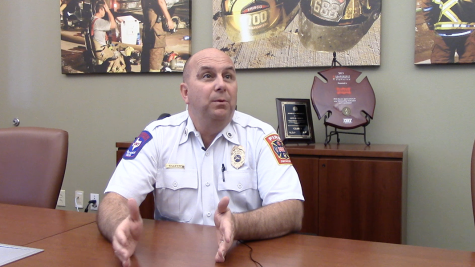 Lieutenant Odum rides Engine 1 and goes out into the field and fights the fires directly. He also  responds to motor vehicle accidents as well.
"Anything that's dispatched to my station on 911," Odum says.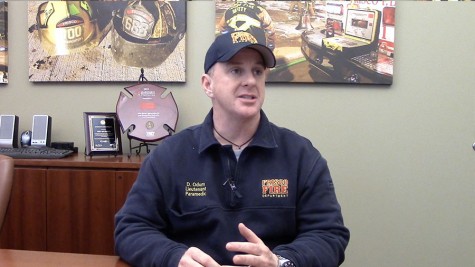 Jennifer Trammel is a Safety Educator at Safety Town and  helps to teach classes.
"I'm also the volunteer and special events coordinator so I also work with all the volunteers from the community," she said.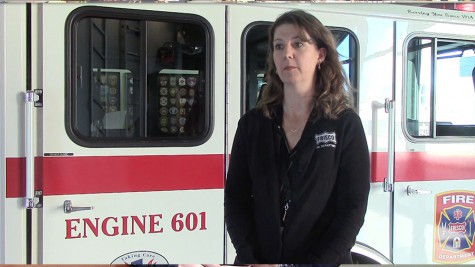 Mitchell Gregor
Mrs. Trammel explains her many duties as a Fire Station Coordinator
The one qualification that kept making an appearance in these interviews was education and keeping a clean background.
"The first thing they need to do is finish their high school education," Gillette said, "Most aspiring fire officials need college education to move up…the common theme of being promoted is leadership, communication and education. Being good at these things is very important and you can provide the best level of service."
Lieutenant Odum agreed,  "You have to have a high school diploma, and then you'll go into college classes."
Odum warns students about their background checks and social media presencens
"Realize that everything you do in your own time can hurt you," Odum said.
A college degree is important.
"Anyone who's interested in a career in the fire service…you are going to need a college education." Trammel said.
She also spoke about social media presence and mirrored Odum's advice.
"I would say, make sure that your past is something that you want to follow you…think about the things you say and do because they do follow you," she said.
It's very apparent that education and keeping a clean profile is a top priority to the people who are interviewing potential new members of the Fire Department. If your dream job is to protect the citizens of Frisco by putting out fires and saving lives, make sure education and background is at the top of your list of most important things to focus on. Then maybe one day, you can suit up for the Frisco Fire Department.