Broadcasting/Video/Film Camp open for all students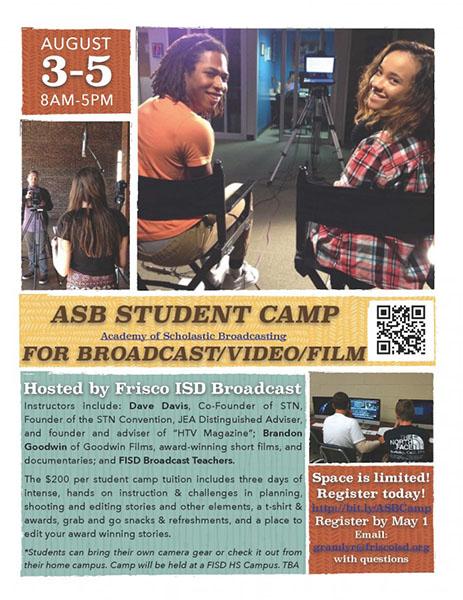 The Frisco Independent School District will host the Academy Scholastic Broadcasting Camp Aug. 3-5.
The three-day camp will be from 8 a.m. to 5 p.m. on Wednesday and Thursday and from 10 a.m. to 7 p.m. Friday* and will include three days of intense, hands on instruction and challenges in planning, shooting and editing stories and other elements. Friday will be from 10 a.m. to 7 p.m. and conclude with an awards ceremony parents will be invited to attend.
The $200 fee for the camp will include a T-shirts and grab and go snacks and refreshments. All incoming freshman through current juniors are eligible.
TheASB Camp will be the perfect place to edit your award winning stories!
Register by May 1 at http://bit.ly/ASBCamp or email [email protected] with any questions.
*Times subject to change.