Don't Mess with Centennial
April 20, 2016
Making the Difference
It's not often, unfortunately, that someone does voluntary goodwill straight from their heart, with seemingly nothing in it for themselves. Franco Perez, however, is one in a million. Every day after school you can see him picking up all the litter he finds along his way home, a praiseworthy and rare feat and something most of us only do once a year, if at all.
"I just don't like it when people leave trash on school property," Perez said.
Perez first started to pick up trash around the school at the beginning of his junior year.
"After the first week of school was over I saw there was a huge amount of trash, and I just thought 'who's going to do it,'" Perez said. "At first I left it there and asked the principal to see if the community service could clean it up for themselves, and when I was leaving, it was better, but they haven't checked the small pieces."
If no one else was going to do it, Perez decided that he would, picking up litter not only around school, but wherever he sees the streets trashed.
"When I walk home after school through the neighborhood , I see some stuff all over the place, whether it's on the street or on trees," Perez said.
Appallingly, an abundance of all kinds of trash is scattered around Centennial.
"Sometimes I see like a huge, empty plastic bag," Perez said. "I pick it up and then I see some empty plastic water bottles, tin cans, trash, sometimes food or cigarettes that have already been burned, which, by the way, I didn't do any of those."
According to litteritcostsyou.org, 75 percent of people admitted that they littered in the past five years, and young people litter the most. Perez is trying to encourage our students to be better than that.
"If you brought something to eat or drink, don't throw it out in the street, bring it with you and throw it in the trash or the recycle," Perez said. "And if you're walking back home, support the school and pick up the trash."
However, very few of us notice or care, and some even contribute to the littering, making Perez's job harder while simultaneously disrespecting the school.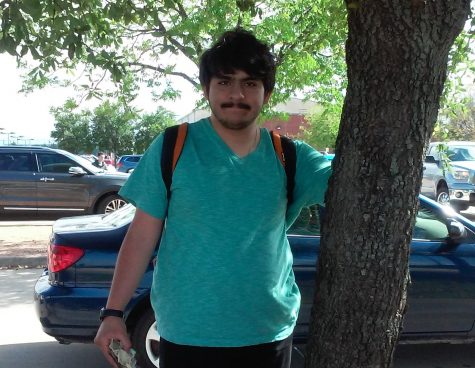 "You can't just leave the trash like that," Perez said. "That's violation to the school property."
For Earth Day, however, Perez has few plans outside of his usual. After all, he treats every day like it is Earth Day.
"I was just planning to go back to the school and do some cleaning again," Perez said. "Maybe just search the whole baseball arena or outside of it and pick up whatever's left of the trash so that way it'll be easy."
Nevertheless, despite the still remaining multitude of trash, Perez feels his actions are making a difference, by both helping the environment and motivating others to do the same.
"Once I do it it'll get people, other kids in the school to pick up trash cause sometimes I can't just do it on my own," Perez said.
Perez worries, however, who will take his place as the school's environmental right hand once he graduates. So this Earth Day, Titans, let's make a commitment. Let's be more like Perez. Because nothing except a healthy future and world is what is in it for us.
"I just wanna try and make the school clean," Perez said. "Even if I'm not in the school anymore, someone's got to do it."
Earth Day Celebration
Each year, Earth Day—April 22—marks the anniversary of the birth of the long-time coming  modern environmental movement. The idea for a national day to focus on the environment came to Earth Day founder, Gaylord Nelson, then a U.S. Senator from Wisconsin. On April 22, 1970, 20 million Americans took to the streets, parks, and auditoriums to demonstrate for a healthy, sustainable environment in massive coast-to-coast rallies. By the end of that year, the first Earth Day had led to the creation of the United States Environmental Protection Agency and the passage of the Clean Air, Clean Water, and Endangered Species Acts.
As 1990 approached, Earth Day went global, mobilizing 200 million people in 141 countries and lifting environmental issues onto the world stage. Today, Earth Day has reached into its current status as the largest secular observance in the world, celebrated by more than a billion people in 193 countries every year, as a day of action that changes human behavior and provokes policy changes.
The fight for a clean environment continues with increasing urgency, as the ravages of climate change become more manifest every day. North Texas is doing its part to save our cherished planet. A new tradition in the DFW Metroplex, the program Ten on Tuesday encourages businesses, schools, community groups and individuals to reverse litter by picking up 10 pieces of trash and recyclable materials each Tuesday. If for just one year, 5,000 people chunk 10 pieces of litter a week into the trash or recycling bin, the Metroplex will reduce litter by 2.6 million pieces. Getting involved is simple – take the pledge online to pick up 10 pieces of litter every Tuesday and chunk them in the trash or toss them into a recycling bin. Pick up 10 at a time, two at a time or go the extra mile and pick up even more and even more often.
In addition, you can Join Keep Frisco Beautiful for the 2016 Great American Cleanup and Clean It and Green It in Frisco. On Saturday, Frisco residents will team up to clean our city's streets, parks and waterways from 9-10:30am. After cleaning, all volunteers are invited to Frisco's Earth Day Celebration at IKEA to enjoy a free lunch provided by IKEA. Rufus the Recycling Dog will also be there, alongside tons of free and fun family-oriented entertainment. Frisco is also holding their annual "Chunk your Junk" event on Saturday from 8 a.m. – 12 p.m. at Ikea.
But it doesn't have to be Earth Day to work to help the environment and provide future generations with a healthy planet. The three R's: reduce, reuse, and recycle are great ways to cut down on the amount of waste we throw away. Taking these actions conserves natural resources, landfill space and energy, deccelerating climate change (which, by the way, is real). Plus, recycling turns materials that would otherwise end up in a landfill into valuable resources. For example, you can reuse your containers, binders, bags and backpacks whenever possible.
Saving our planet goes beyond saying "we should go green," "save the whales" and "I saved sea turtles" when we flaunt our reusable bags that have become a sign of class more than caring. This Friday is a good day to take a step back and take a long hard look at the planet we live on. It is up to us to sustain it. Plant a tree. Start a group with your friends to pick up trash.
Do it once a year.
Or once a week.
Or even every day. Like Junior Franco Perez.