Frisco Residents to Vote on Tax Increase
The upcoming election will decide the future of Frisco schools.
Frisco residents will vote this Saturday on whether to raise property taxes to fund day-to-day operations of FISD during the Tax Ratification Election (TRE).
In a special meeting, school board members voted unanimously to set the maintenance and operations tax rate at $1.17 per $100 of tax valuation, an increase of 13 cents from last year's rate. For someone with a $300,000 home, the increase would mean an extra $390 a year in property taxes.
If passed, the new rate will provide FISD with funding per student that is in line with the state average, allowing the district to reduce class sizes, add support staff and catch up to area districts in offering competitive teacher salaries.
The state's fastest-growing school district has been on a building spree with new schools opening every year. However, the state funding needed to operate its campuses hasn't kept pace with the district's growth. Now, the district is turning to voters for help.
The election is the most disputed issue in Frisco right now. The groups Frisco United and Vote No Frisco have formed pages on Facebook to campaign against the tax rate hike.  A group called Yes to Frisco Teachers is campaigning in favor of the measure. Campaign signs representing both sides are sprinkled in yards throughout the district. Frisco residents have many options on where they want to vote, including Centennial.
Supporters of the tax increase say they are willing to pay a little more to keep FISD strong. Centennial AP Language and Humanities teacher Tracy Webb says she voted early in favor of the increase, and says that most people don't understand the way schools are funded in Texas.
"The state legislature demands that we have separate funds for each separate entity that we use to support our district," Webb said. "What has happened is because Frisco is a fast growing district we've gotten extra money from the state from the last several years to help with the influx of new kids. The legislature has decided to get rid of that program so we're losing roughly 30 million dollars."
According to FISD, the school district will have lost $125 million in state funding between 2011 and 2017. The rate increase would generate about $30.6 million of the $42.3 million added to the district's budget for this school year.
"I think it's very important to make sure we educate our kids to not make up the gap in that funding, and that's why the increase in our property tax is still cheaper than what it would cost me to send my daughter to private school," Webb said.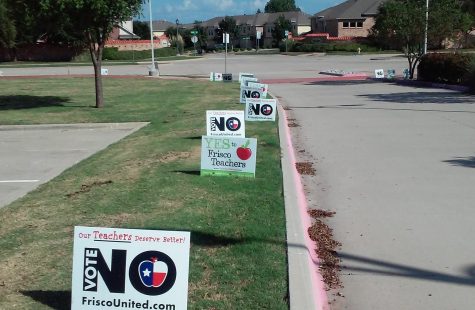 Centennial Assistant Principal Tony Farmer says he's voting yes because he believes it would be best for the kids.
"I think it's going to be difficult for the school districts to support the kids the way we have been if we don't pass it," Farmer said. "There'd be more kids in classes or there'd be program cuts, so I believe it would be more beneficial to our schools if we pass it."
Those who oppose the tax increase say Frisco shouldn't have paid for the Star, the new Cowboys training facility where FISD high school football is also held, and instead kept the money for schools.
"My vote will be an absolute no," Norma Martinez, Frisco resident of 18 years, said. "Why should we pay for the new Cowboys facility? The city shouldn't have given them those 30 million dollars because they already have enough money. The residents shouldn't be asked to pay extra because of that. I'm a huge fan of the Cowboys but I think my taxes are high enough already."
However, friscoisd.org says the tax revenue generated through the taxable value in that area goes into a special fund that allows the district to participate in public-private partnerships that benefit the growth and development in the area and also allows FISD to balance its debt service rate by reimbursing its debt payment with these funds. By law, these funds cannot be used for the maintenance and operations of the school district, such as teacher salaries. In addition, the money in question would go to the City of Frisco, not the Cowboys.
"Lots of people are complaining about the construction of the FISD administration building and the money they're giving to Jerry Jones, but they're very separate funds," Webb said. "The money that we gave to invest in the Star came from profit from the land around Stonebriar center which is allotted to come to us but that fund can only be used for construction projects."
Still, if the tax increase is approved, the largest Frisco has ever asked for, some residents will not be able to afford their homes any longer. According to empowertexans.com, Collin County residents already pay the second-highest total property taxes in Texas. Supporters of the increase, however, say it's a small price to pay to keep FISD schools at the top of the state and the nation.
"The same people who are complaining about paying an extra $400 in property tax want their schools to be great," Webb said. "They are going to be the first people to brag that their kids are playing at Cowboys Stadium but yet they don't want to pay for what they want and I think it's irresponsible. We have to think of our kids first."
Update as of Aug. 29: With 58 percent of the vote, voters chose not to ratify the higher property tax rate. This means the tax rate remains at its previous $1.46 per $100 of valuation.