True Grit
Webster's Dictionary defines adversity as "a state or instance of serious or continued difficulty or misfortune." One of Centennial's coaches, Terry Grayson, is someone who had to overcome adversity during his childhood years.
Grayson spent his childhood in the foster care system, and for five years, did not know he had four other brothers and sisters.
"This group called the Sand Springs Children's Home, found out that we were all brothers and sisters and they decided that they were gonna try to place us all together," Grayson said. "When I found out that I had brothers and sisters, I was really excited."
By being with his brothers and sisters in the same foster home, Grayson felt just like any other kid, even though he didn't know his biological parents very well.
"I knew that I didn't have a relationship with my mom and dad," he said. "I knew that they were still alive, and I got to see them like once a year, but I was really adjusted to that life of not having my biological parents in my life."
Grayson had to face the challenges most foster kids had to go through, and was able to make something positive through it. He is a popular coach at CHS, and is known for his positivity and good-heartedness towards the staff and students.
Jessica Grayson, a math teacher at Centennial and Grayson's wife, describes him as "a tremendous husband and an amazing father" to his kids, Malachi and Noa.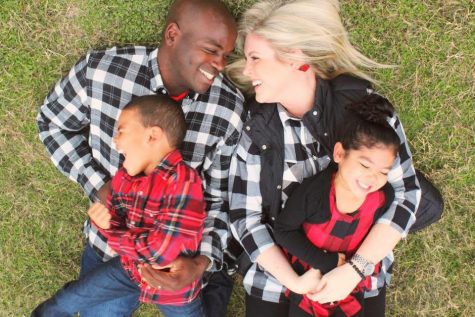 Grayson has some important advice to kids facing challenges.
"To the world, you may be one person. But to one person, you may be the world," he said. "The way that you live your life, could help be a stumbling block or a building block to help others see that you can grow from every situation life offers."
By believing in his faith and having a good heart, Grayson knew he wanted to be a role model to other kids and said he believes everyone can make a successful future for themselves if they put their mind to it.
"I could be more of a light in this world and be more of a positive influence and help others get out of that situation," he said.