Theater Department Presents "Romeo & Juliet"
On the first week of September, our CHS Theatre Department had the honor of performing Shakespeare's most famous tragedy, "Romeo & Juliet." The actors worked hard rehearsing throughout the summer, with the help of director Stephanie Ball, and their efforts showed. What set this show apart from other summer productions in the past, is that it had two separate casts, the Red Cast and the Blue Cast. For the Red Cast, Romeo and Juliet were played by seniors Kade Owens and Carly Suhr, and in the Blue cast, the star-crossed lovers were played by sophomores Colin Thomas and Kaci Pelias.
Unfortunately, I was only able to attend one performance on Saturday,  Sept. 6, and got to see the Red Cast perform. As I took my seat, I was immediately impressed with the set. Two stair cases led up to the balcony, which was decorated beautifully with flowers and greenery. It was clear that it was a difficult set to build, but the end product was amazing.
The costumes were also very ornate. They really transported the audience to the Renaissance era. Juliet's dress was made of a delicate, green chiffon-like fabric and Romeo's costume consisted of a white linen poet-style shirt and red velvet vest with a hat to match. The other actors donned similar ensembles, with colorful hats and flowing fabrics.
As for the acting, Suhr and Owens both gave memorable performances and swept up the audience in the story. Even people such as myself, who have read the play and scene the movie adaptations countless times,  could connect with the classic tale like never before. Other notable actors would be Megan Gallagher and Kaci Pelias who played Benvolio and Mercutio. Despite the fact that "Romeo & Juliet" is a tragedy, they were able to bring great energy and comedy to the stage, and I found myself laughing every time the two made an appearance.
Overall, the performance was a great success and I applaud all the cast and crew who were involved. My only regret is that I could not see both talented casts perform. I am now highly anticipating our theater department's next project, "Seussical the Musical."
About the Contributor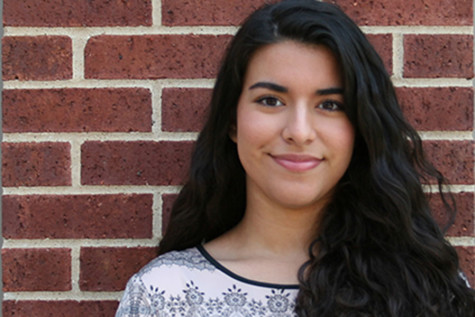 Cristine Espinosa, Reporter
Whether I'm writing a story, playing the guitar, fangirling over One Direction, binge watching Gossip Girl, or daring to actually go to the gym for once,...