Second Semester Announcements
The second semester will soon be upon us, and with that in mind, here are some announcements from the counselors regarding schedules for the rest of this year and next:
Announcement #1:
Hard copies of second semester schedules are not being distributed this year.  All students must view their second semester schedule in HAC to ensure they are going to the right place at the right time.  If the order of classes changed, it is usually due to the availability of one semester classes chosen, and cannot be switched back. Students with a room number beginning with an 'X' and whose course number ends in "@CTEC" have a class located at our Career and Technology Center.
The only schedule changes allowed at this time are:
·         Level Changes
o   Semester-long PAP or AP classes – requests to level down are due by Friday, Jan. 12 at 4:30; once the new semester begins, students are obligated to complete the first six weeks of the course.
o   Year-long PAP or AP classes – at this point, students should be able to determine if these classes are the right fit for second semester.  Requests to level down should ideally be made by Jan. 12 in order to minimize disruption once the new semester begins.  Those needing more time to decide must submit the request no later than 4:30 on Jan. 26.
·         Program Changes
o   Into/Out of athletics, band, choir, debate – extracurricular/cocurriculars requiring outside time and money
o   This does NOT include academic programs like CTE classes
o   Requests are due no later than 4:30 on Jan . 26
·         Early Release/Late Arrival/Office Aide (11th and 12th only)
o   Students must be on track for graduation
o   Students with Early Release/Late Arrival may not be on campus during those times
·         Requests are due no later than 4:30 on Jan. 26
Announcement #2:
Current 9th-11th graders will receive their 2018-19 course request card and watch a scheduling video with instructions on Friday, Feb. 2.  On that day, and the following Monday, counselors will be available during all lunches in the cafeteria to answer questions.  Students will briefly meet individually with their counselor through English classes to review and turn in the course request card on the following dates:
11th – Feb. 8-9
10th – Feb. 12-13
9th – Feb. 14-15
About the Writer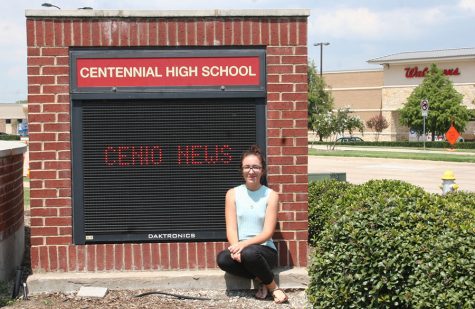 Laura Nicolescu, Co Editor-in-Chief
I am the Co-Editor-in-Chief for Cen10 News and a senior with a passion for writing. Journalism is one of my favorite subjects and I would love to continue...