A Howling Good Time
A Cen10 Review for Isle of Dogs(2018)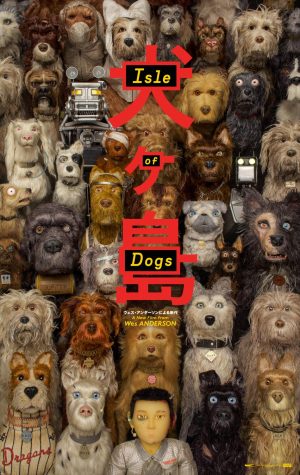 Isle of Dogs, written and directed by Wes Anderson and starring Bryan Cranston, Edward Norton, Jeff Goldblum, Bill Murray and more, is a 2018, stop-motion animated comedy. It is also one of the most unique and enjoyable animated features of the decade, mixing fast-paced, comedic dialogue with a deadpan tone, and combines a simple, yet engaging story with breathtaking set design and animation.
The story is set in the near-future, presenting a dystopian area of Japan, Megasaki City, where all dogs have been banished, due to an epidemic spreading throughout their population, to Trash Island. The canines survive for six months until the crashing arrival of a young pilot, Atari (Koyu Rankin), who's come in search of his dog, Spots (Liev Schreiber), the first exile of the colony. The canine pack itself consists of Chief (Cranston), a hardcore stray who is hostile toward Atari, Rex (Norton) the de-facto, democratic leader, Duke (Goldblum) who has near total knowledge of all gossip, Boss (Murray) and King (Bob Balaban). Around the same time, Megasaki is dealing with tensions between the ruling Kobayashi party and the opposing Science Party, while American exchange student Tracy Walker (Greta Gerwig) and her cohorts at a school paper, attempt to expose a massive conspiracy within the former party.
First, the direction and cinematography. It cannot be overstated how much mastery Wes Anderson and co display here, improving on their already excellent previous animated film, the Fantastic Mr. Fox (2009). Shots are composed with intense precision, keeping the audience's attention where Mr. Anderson commands, creating scenic works of contrasting light and shadow, resulting in a film packed with memorable shots and scenery.
Of course, the directing is assisted by what is undoubtedly the film's greatest asset: set design and animation. From the dour, apocalyptic titular Isle to the retro-futuristic and claustrophobic Megasaki City, every location is ripe with detail and atmosphere. A particularly standout moment is when the pack and Atari make their way to the other end of the island, a journey in which the audience is shown the strangely diverse, yet consistently haunting districts of the Isle, each given their own distinct, industrial flavor. The animation receives the same amount of extreme care and detail as well, with basic actions, such as walking, lip movement and more, being backed up by more subtle details, such as a facial tic, the precise bend of a skeletal finger, and the violent dismemberment of certain body parts are all rendered with craftsman-like care.
The cast, comprised of many award-winning actors and actresses, plus newcomers, is also something to behold. While the script is well-made, albeit a bit clunky in pacing and character development, the voice acting elevates it to another level. Cranston continues to impress as Chief, mixing comedic surprise with gritty stoicism, Norton delivers detailed dialogue at breakneck speed with a deadpan tone, Koyu Rankin, even if one doesn't speak Japanese, still conveys Atari's emotions and intentions with verbal clarity. While the more minute roles, such as those handled by Murray, Goldblum, Balaban, Frances McDormand, etc, may not get enough screentime, their characters are still memorable enough and chuckle-worthy.
The script was written entirely by Anderson himself, while the story co-written by Anderson, Roman Coppola, Jason Schwartzman and Kunichi Nomura. The plot isn't too complex, but it does allow for satisfying moments of character interaction, scenes of kinship between humans and their canine friends and is well-paced, overall. However, it does fumble a little bit, specifically with the exchange student storyline, and the placement of certain flashbacks. While the flashbacks themselves are fine, the sudden cut to them can take viewers out of the dramatic traction of the scenes preceding them, going from a life-or-death situation to a somber, slow burn crawl. Furthermore, the exchange student storyline, despite fleshing out the conspiracy storyline and the Megasaki side of the world, does seem a bit absurd and has a white woman fighting to change Japanese society; a plot-point that may sound a bit too much like the infamous "White Savior" trope that has been criticized in many previous Western depictions of Japan. Despite these grievances, however, most of the faults are outweighed by everything else the movie gets right.
Overall, Isle of Dogs is a solid movie from beginning to end. However, its also a unique one. Most animated films these days try to play it safe, sanitize their content and are rendered in 3D animation on computers. These aren't negative qualities, but they've become synonymous with the genre of animated films, whereas Isle has none of those; it doesn't play it safe, hardly sanitizes it's content and was made using painstaking, hand-crafted stop-motion techniques.  This film matters in a genre landscape that has enough reoccurring elements to where they could make for a game of Bingo. Not only is Isle of Dogs an experiment, it's an experiment that succeeds.
Ultimately, I highly recommend Isle of Dogs to everyone.