Snowy Streets and Gingerbread Treats
FRISCO, TEXAS- Christmas is arguably the most popular holiday in the US. Whether you celebrate it or not, December in general is a time filled with smiles, bright lights, and warmth in spite of the cold weather. Now, you may not be as enthusiastic as the people who go around singing Carol of the Bells every five minutes, but you can certainly participate in the holiday cheer with some tasty treats. Read on to find out how to make yourself some lovely gingerbread companions!
This recipe, inspired by both Food Network and Sally's Baking Addiction, will take approximately 4 ½ hours in total due to how long you need to let the dough chill, though it's well worth it for the results. For these cookies, you will need:
⅔ cup unsalted butter (room temperature)

¾ light or dark brown sugar

⅔ cup unsulphured molasses

1 large egg

1 teaspoon vanilla extract

3 ½ cup all-purpose flour

1 teaspoon baking soda

½ teaspoon salt

1 tablespoon ground ginger

1 tablespoon ground cinnamon

½ teaspoon ground allspice

½ teaspoon ground cloves

cookie or royal icing

2 large bowls

hand-held or stand mixer

baking sheets

parchment paper or silicone baking mats

rolling pin

cookie cutters
First, put butter in a large bowl and, using a handheld or stand mixer, beat the butter at medium speed until it is smooth with no lumps. Add the brown sugar and molasses before beating on medium high speed until it looks creamy. Next, put the egg and vanilla, beating on high speed for 2 minutes. 
In a separate bowl, whisk together the flour, baking soda, salt, ginger, cinnamon, allspice, and cloves. After combining those, mix in the wet ingredients on low speed until the dough is thick and slightly sticky. Divide the dough in half and put each one on a piece of plastic wrap. Wrap them tightly and pat down to create a circular shape. At this point, you need to chill the dough for at least 3 hours, or if you plan on storing it, up to 3 days. 
After your dough finishes chilling, preheat the oven to 350 °F (177 °C). Line your baking sheets with parchment paper or silicone baking mats (if you only have one baking sheet you may take turns baking your cookie dough), and remove the cookie dough from the refrigerator. 
Make sure to generously cover your work surface as well as yourself and the rolling pin with flour. Roll out the dough until it is ¼ inch thick. If the dough feels crumbly or cracks, pick it up and rotate it and use your fingers to mend cracks. Following this, cut it into shapes with your cookie cutter(s), placing each shape 1 inch apart on your baking sheet(s). 
Bake the cookies for about 9-10 minutes, though the time may vary based on your oven and its hot spots so be careful and check on your cookies regularly. Once you take them out, let them cool for around an hour before decorating as desired. Have fun and get creative with it!
Of course, even if your gingerbread people didn't turn out perfect, it's still a fun experiment that you can share with your loved ones! (This is not permission to give your friends and family food poisoning. Please refrain from doing that.) My cookies definitely didn't look like they were made by a professional, but does it matter? At the end of the day, baking these cookies is about having fun and sharing the holiday spirit with others.
About the Contributor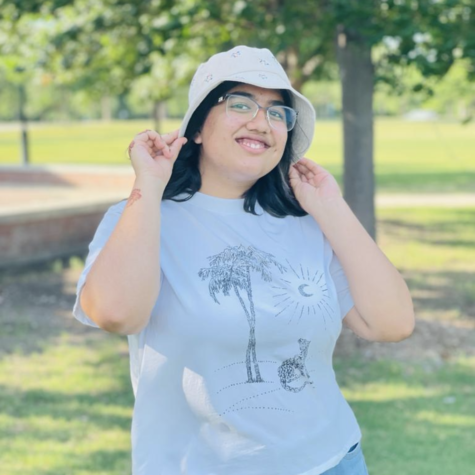 Uswa Saeed, Editor-in-Chief
Hi! My name is Uswa Saeed. I'm currently a 12th grader at Centennial High School, and this is my third year writing for Cen10 News. Writing has always...