Titans Actually 'Bringing it Back'?
The Centennial Football team is taking a slightly different approach to this year as opposed to years past. Their new motto being "Bring it Back" as in bringing back the wins, championships and glory that used to run through the veins of Titan Nation. We picked up a reminiscent vibe of that last Thursday night when the Titans took on the Raccoons in the first game of the year.
The first few drives for the Titans looked like it might be a repeat of last year where the Raccoon offense drove right down and scored at will, but that was not the case at all. Once all the new varsity players got settled in and got a few plays under their belt, the Titans really took stride. A 25-yard run by Hunter Williams sparked the Titan offense leading to a 25-yard pass from Weston Symes to Jake Harrelson, and then a 40 yard double pass that ended in a Reece Bartles Touchdown. The rest of the first half was completely one sided as the Titans scored two more touchdowns leaving the score at 21-7.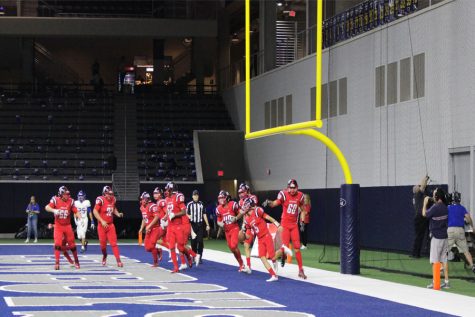 The Raccoons weren't out of it yet though as they scored very quickly on the first drive of the second half cutting the lead down to 7, but they could never do more than that. The Titan offense matched the Raccoons stride for stride keeping a one to two touchdown lead a majority of the second half. However it looked the Raccoons might make a late game resurgence as they forced the Titans to a fourth down with around three minutes left in the game, but a 36-yard field goal by Conner Donisi put the game out of reach. The Titans would go on to win 31-21 in a game that proved to some people that the Titans just might be bringing it back this year, But only time will tell. The Titans true test will occur this week when they take on the Lake Dallas Falcons which run the same offense and posses similar talent and speed as the better teams in our district.