CHS Food Drive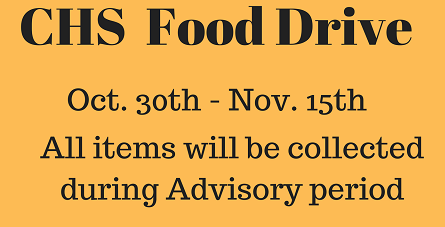 Help out those in need and win points for your advisory class by contributing to the CHS Food Drive, running now until Nov. 15. Turn in all items to your advisory teacher.
ONE POINT:  
Baking mixes

Boxed macaroni and cheese  

Boxed meal helpers (Hamburger Helper, etc.)  

Canned soups  

Canned food items (fruit, veggies, etc.)  

Canned pasta meals (Ravioli, Spaghetti O's, etc.)  

Snack Items (popcorn, granola bars, etc.)
FIVE POINTS:  
Cooking Oils (16oz or smaller)  

Condiments (ketchup, mustard, mayo, etc.)  

Spices and seasoning  

Salad Dressing

Fruit Cups  

Juice boxes (6-10oz.)  

Jelly  

Peanut butter  

Toothbrushes

Toothpaste
TEN POINTS:
Dishwashing liquid

Household cleaners

Laundry detergent  

Deodorant  

Body wash  

Shampoo  

Conditioner
FIFTEEN POINTS:  
TWENTY POINTS:
Feminine Hygiene: pack of 40 (counted as ½ point per product)
FIFTY POINTS:
Diapers: pack of 100 (counted as ½ point per diaper)
Cash Donations: $1 = FOUR POINTS
Travel sized items will not be accepted.