Frisco Education Foundation Scholarship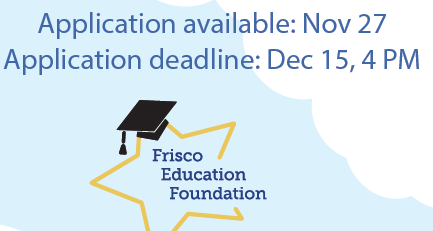 The Frisco Education Foundation will open their application process for more than 800 scholarship opportunities Nov. 27 at 10 a.m. The scholarships are open to all graduating Frisco ISD high school seniors. The deadline to apply is 4 p.m. on Dec. 15.
Scholarships will be awarded on the basis of merit, need, community service, university, intended major and other criteria. Scholarships range from $500 to several thousands of dollars.
Last spring, more than 650 FISD students were awarded scholarships totaling more than $670,000. The Foundation has awarded more than $5.8 million in scholarships since it was established in 1999.
Scholarship winners will be recognized at a special ceremony on May 23, 2018 at the Dr. Pepper Arena.