2022 Texas State Fair: A Review
DALLAS, TEXAS- On Oct. 7, I visited the 2022 Texas State Fair––the first annual State Fair held without the long shadow of COVID-19 hanging over its operations. Eager to finally experience the fair in its full, crowded glory, my sister and I urged our family to go.
And so on a breezy Friday afternoon, my family packed into the back of our Mazda and drove an hour to the fairgrounds out in Dallas.
Once we arrived, we split into two groups: me with my parents, and Ari, my sister, with her friends. Though we had already been to the fair last year, I was excited to re-experience the frenetic atmosphere of the event and see any exhibitions that we had missed last year due to being uncomfortable with densely crowded spaces.
Of course, almost every attraction was densely crowded again this year; it was impossible to get through the main road through the food stalls without pushing through throngs of people. The pungent aromas of grease, barbecue smoke, and sweat wafted through the air––an uncomfortably warm, unmistakably Texan welcome.
Predictably, everything was overpriced.
"Like, seven dollars for cotton candy? No thanks," Deen Sainju, a sophomore at LTHS and one of Ari's friends, remarked.
These inflated prices were built into the system: coupons were the only currency accepted at the fair, with a conversion rate of one dollar to one coupon. Kiosks only sold coupons in bulk, aiming to encourage customers to spend more than they would otherwise.
Consequently, my father, who is a vegetarian, spent eight coupons on an ear of grilled corn for dinner. My mother and I had more suitable food options: skewers of chicken straight off the grill for twelve coupons.
After we ate, we roamed aimlessly around the fairgrounds, just taking in the sights. Towering rides spun and whirled above us, their passengers' screams echoing in the night; the constant pep of carnival game operators buoyed tired parents and excited their already-eager children. Though my family isn't one for rides, we found our coupons drained just from sampling the various foods around us, ranging from ice cream to fried balls of gumbo.
Eventually, we happened upon the MattressFirm Illumination show: a dance/lights extravaganza with synchronized fireworks. Speakers blasted country and pop hits as dancers in Southern dress twirled onstage; onlookers aahed and oohed on the lawn across the lake, myself included.
The hours flew by––too soon, it was 9 p.m., one hour until close. I visited one last area, the petting zoo (a rather impressive display of Texan and exotic livestock), and walked with my parents back to the main entrance to regroup.
"The fair was extremely fun and there was [sic] a lot of new things that I could try out––a lot of good food," Smirti Pillai, a junior at LTHS and one of Ari's friends, commented. "I liked how welcoming everyone at the fair was, with all the rides and events and everything."
Ari's group had ridden the Yo-Yo, a spinning mechanism with ropes attaching the ride compartments to the central tower, and the fair gondola, which carried riders over the entirety of the sprawling fairgrounds. Pillai lamented that they were unable to ride the Ferris wheel, however, due to the formidable wait.
"It was a little too crowded for me, and it wasn't very sanitary… there was a lot of trash around the floor and everything like that," she continued.
Indeed, litter had been scattered evenly throughout every footpath of the fair. Smoke from the grilling and recreational activities mingled with the odor of farm animals also created a… unique olfactory experience.
For me, though, none of this detracted from the total experience. On the ride home, I felt grateful that I was able to go this year and spend some quality time with my family, even at such high prices and while suffering through the crowds. Hopefully, it won't be my last time attending.
The Texas State Fair ends on Oct. 23. I would certainly recommend that you, too, take advantage of those free student tickets and visit while the fair is still open.
About the Contributor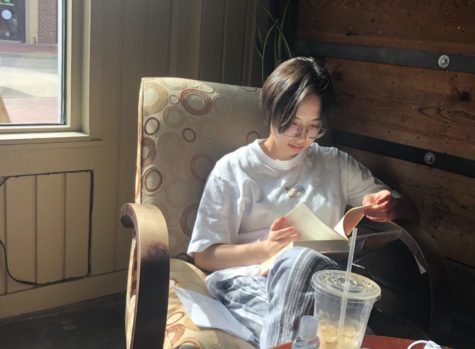 Mandy Alexander, Reporter
Hello! My name is Amandine Alexander (people know me as Mandy) and I am a senior here at Centennial. I moved here from abroad last year and have been active...