BLACKPINK Concert: Slay or Nay?
AMERICAN AIRLINES CENTER- If you don't live under a rock, you've heard of the K-pop act, BLACKPINK. The wildly popular girl group has won numerous awards such as MTV's Song of the Summer, Golden Disc Awards' Best Album, and Gaon Chart Music Awards' Hot Star of the Year. The girls, Jisoo, Jennie, Rosé, and Lisa, recently began their second world tour titled "BORN PINK", a nod to their newly released album of the same name. 
I attended the first of the two concerts in Dallas on Tuesday, October 25th, and I certainly wasn't disappointed. The energetic performance, beautiful vocals, and gorgeous outfits, all worked to make each and every song stand out. The order of the concert can be seen below: 
How You Like That

Pretty Savage

Whistle (Shortened)

Don't Know What To Do

Lovesick Girls
Kill This Love

Crazy Over You

Playing With Fire

Tally

Pink Venom
Backup Dancers Performance
Jisoo Solo – Liar by Camila Cabello

Jennie Solo – You and Me

Rosé Solo – Hard To Love/On The Ground

Lisa Solo – Lalisa/Money
Shut Down

Typa Girl

Ddu-Du Ddu-Du

Forever Young
Boombayah

Yeah Yeah Yeah

As If It's Your Last
    (A friend of mine made a joke about BLACKPINK's discography finally being long enough to have a proper setlist. I have to admit I'm much happier with this setlist than their 2019 concert: it certainly feels like their discography is more fully shaped now.)
Vocals
The girls' vocals and raps were truly wonderful, with their voices really shining throughout the concert. They hit most of their high notes live, and the raps were well-executed and filled with energy: Ddu-Du Ddu-Du's rap was a personal favorite of mine. However, some of the concert attendees were a bit disappointed that not everything was sung or rapped live. I would argue, though, that unlike most Western artists, BLACKPINK has incredibly difficult choreography on top of their songs. It would be almost impossible for them to both perform the choreography and sing everything live. Nonetheless, their voices were beautiful. 
Dance/Stage Presence
If there is anything BLACKPINK is known for, it is their ability to fill a large stage with their charisma and presence. Their powerful stage presence made their performances stand out even more, and their energy definitely captured the audience. The girls' choreographies are pretty rigorous, and they danced them really well. Well, mostly. Many BLINKS (fans of BLACKPINK) noticed a few mistakes here and there in the performances. This resulted in a lot of criticism towards the girls on TikTok, saying that they should've practiced harder considering they were on an almost 2-year hiatus prior to the tour. Although the criticism is valid, these clips were only a small portion of the whole concert, and it's important to remember that everyone makes mistakes, even professionals. In my opinion, the occasional slip-ups didn't really detract from the performance as a whole. 
Outfits
BLACKPINK's outfits were, in my opinion, absolutely stunning. They were all gorgeous, making every member's beauty stand out. The outfits were also coordinated, with the girls wearing pieces that looked similar but each with something slightly altered to differ them. A couple favorites of mine were their white and gold ensembles, as well as Jisoo's solo outfit, a stunning red dress.
Set
The decorations on set were pretty minimal: there were some moving pieces brought in and out, such as arches for each member and a pole for Lisa's solo dance. The stage also set off fire and fireworks at the front, which definitely added to the hype of the performance. Confetti came out of the ceiling twice during the concert, and though it was cute, it did get wrapped around Rosé, who struggled a bit to get it off her. It also went into the crowd, though they certainly didn't seem to mind and excitedly collected it. 
Additional Notes
The girls' performance was the highlight, of course, but they also made sure to interact with their fans throughout the concert and made sure the audience was enjoying themselves. Additionally, the transitions during the girls' outfit changes and other preparations were very clean: the VCRs and other performances from the band and backup dancers filled the gaps perfectly. The BLACKPINK concert, overall, was quite well-executed and very enjoyable.
    The BORN PINK tour is still going on, and I recommend going to their concert if you haven't already: anyone who goes to see them is bound to have an amazing experience. 
About the Contributor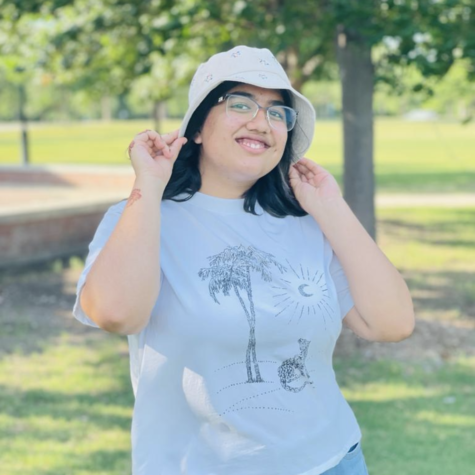 Uswa Saeed, Editor-in-Chief
Hi! My name is Uswa Saeed. I'm currently a 12th grader at Centennial High School, and this is my third year writing for Cen10 News. Writing has always...