The Year's Not Over Yet for the CHS Visual Arts Department!
CENTENNIAL HIGH SCHOOL — As the school year comes to a close, the visual arts department at CHS has set its course to finish strong with creative displays both on- and off-campus.
One such display was the UIL VASE (Visual Arts Scholastic Expo) Art Walk last week, which provided a space for students to showcase their VASE entries to the CHS community. The event was a smashing success, drawing a large crowd of students, parents, teachers, and even a few harp players (for ambience) in the rotunda after school. 
"This year we had a ton of [VASE] entries—I think we had more entries than we've had in the past years—and I think we've had the most entries in all of FISD," Ms. Jayme, one of the CHS art teachers, said. 
Indeed, thanks to the tireless support of CHS' wonderful art faculty, participation in the event has increased every year since the return to fully in-person schooling in 2021.
"We had a good turnout… so it was lovely," reflected Ms. Ham, Head of the CHS Visual Arts Department. "We have very talented students at Centennial with very creative ideas… and so hopefully we can have more student voice by creating different events for students, whether that's VASE Art Walk or the Music and Art Walk in the fall." 
Not only have the students reacted positively to these opportunities—teachers have also shown enthusiasm for students' art, even if they belong to different departments.
"I think we had a record number of teachers vote for their favorites…!" Ms. Jayme remarked.
To cap off the year in art, there will be one final event that is FISD-wide: The FISD Vertical Art Show, held on April 25th (tomorrow at the time of publication!) at 5515 Ohio Drive, Frisco, Texas, in the FISD administrative building.
"Each of us have a certain number of artworks that we put in that we've liked throughout the year," Ms. Jayme explained. 
The display commemorates high school art across the district and also serves as a visual arts sample for FISD's feeder schools, including several middle and elementary schools. 
Overall, CHS has done an excellent job at encouraging the development of students' artistic motivations and abilities.
"We would love to have more students take leadership roles and be creative," Ms. Ham said. 
It will certainly be exciting to see what the future holds for the CHS Visual Arts Department. As a graduating senior myself, it's reassuring to know that the Fine Arts at CHS have always been—and will continue to be—in good hands.
About the Contributor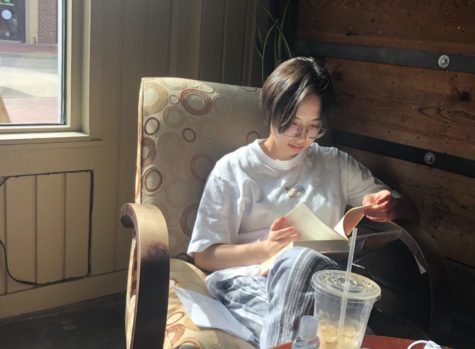 Mandy Alexander, Reporter
Hello! My name is Amandine Alexander (people know me as Mandy) and I am a senior here at Centennial. I moved here from abroad last year and have been active...