Zones split sliblings
In the midst of Frisco ISD's expansion, attendance zoning has become a popular topic of controversy.
With over 53,000 students within our district's boundaries, the district has tried to accommodate students and parents with a smooth transition into the new schools. But with that many students, accommodating everyone can become a pain.
Centennial High school has been affected by rezoning plans multiple times due to the opening of surrounding Frisco ISD East high schools such as Liberty and Independence and is expected to endure more change with the opening of Lebanon Trail High School in the fall of 2016.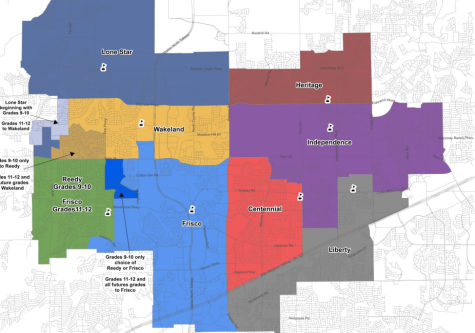 And, with what seems to be a never ending expansion, comes some expected growing pains.
Michael Crump, a sophomore at Centennial, has a younger brother, Will Crump, currently attending Clark Middle school. Crump admits it will be a strange transition for his younger brother being rezoned to attend a brand new high school in the fall of 2016 after assuming Centennial to be his future high school. 
"He's going to get all of the new equipment, technologies, practice fields," said Michael Crump.
Thinking about rezoning can surely stimulate feelings of uncertainty, confusion, and maybe even denial, but for this sibling duo, hope for new opportunities have blossomed.