Titan Softball: Friends In Need Are Friends Indeed
FRISCO, TEXAS- In partnership with Keeper of the Game, Titan Softball has organized a food drive ending on October 20th to help out those in need, and are collecting items in competition with the other FISD Softball teams.
"Keeper of the Game is an organization that works with special needs children; they go through, and they give softball and baseball to these kids and do different activities with them," explains Coach Reeves, the varsity softball coach.
What exactly is its purpose though?
"It's a food drive where we help Frisco families and [feed] those who need it," Elle Snyder, a varsity softball player, says.
It all started with the realization that, despite being a "wealthy" community, not everyone in Frisco was living a comfortable life.
"[We] noticed that more people in our community needed more help than we thought, and we were able to make a big impact," conveys Abbey Farmer, varsity softball player.
Helping people out is always a good thing, and some believe that they have a moral obligation to do so.
"As athletes, we represent the school, especially, and we want to make sure that we show [our school] in the best light of Centennial softball," states Audrey Chambers, another varsity softball player.
For others, it's a way of giving back to the community and returning the helpfulness and sympathy that was bestowed upon them when they were in need of it.
"And coming from a personal experience, [from going] to food shelters to get a meal, and then coming [to] the other side and be able to help them kind of hits home in a way. Now I can help the people where I used to be," says Amaya Sanchez, another player on the Centennial varsity softball team.
Helping others is a really good feeling, a sentiment that all the softball players share.
"[It's also] just knowing that I have done something to help in my community… all I have to do is give, like, a pack of ramen, and I just gave somebody food for a meal," says Chambers.
It's not just giving items either. The softball team is dedicated to helping Frisco families have fun, and one of the ways they achieved this was by spending time with them.
"I went out with Trinity Stevens [varsity softball player], and we went to a clinic where we were partnered up with a special needs student and we went around with stations and we played softball/baseball with them," recounts Chambers.
"It's very fun to see how even a very brief conversation, or interacting at a station, or them throwing the first pitch can really impact them and make their year," adds Snyder.
And throwing in a bit of friendly competition between the FISD schools means that everyone is even more dedicated to helping out the community.
"Personally, I love a friendly competition, and especially competing against Lone Star, who beat us last year," says Chambers.
"Since we came second place last year… we're gonna win this year since we got a lot of support this year… I believe we can win, hopefully," adds Farmer, saying that "anything is welcome, they won't turn it away."
When asked about her experience with the food drive last year, Farmer said, "last year, we had 2,042 items, and we had to organize all of them by category, and sit there and count… all of us get to volunteer and help out."
Helping people in your own community makes it a more tight-knit one, especially when you're forging new relationships with former strangers. Every little bit helps, and everyone can donate something to help out their community.
"I'm proud to say that I was a part of something," comments Chambers.
If you have any extra supplies at home that you know you are not going to use, consider donating to the food drive, which ends on October 20th. Here's your chance to help out your community!
About the Contributor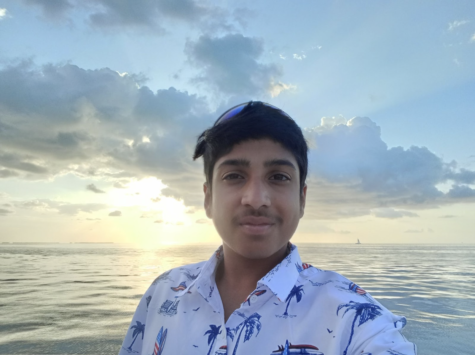 Rushil Kannery, Reporter
I'm Rushil Kannery, and I'm a senior this year. I love reading and writing, a passion which I brought into Cen10 News. I'm also a fan of mathematics,...