Countdown to the Masquerade
CENTENNIAL HIGH SCHOOL- It's almost here. It's the day every high school movie glorifies to no end, the peak of each high schooler's four years: prom. But is prom day itself the only fun part of the experience? Absolutely not! Throughout the week of April 11-14, each dress-up day works to build excitement for the big day on April 15, and for some, can be more fun than the dance itself.
This year, the dress-up days are as follows:
Tuesday: Make your kindergarten self proud! Dress like a kid
Wednesday: Retire senioritis! Dress in your retired attire
Thursday: Dream of the future! Wear PJs
Friday: Mask the night! Wear your prom shirt
Dressing up can be really fun, especially when many people at school dress up together. With the unique themes this year, seniors can enjoy a variety of outfits throughout the week. However, it seems that pajamas, although a common theme, are still the crowd favorite.
"[My favorite day is] PJs because it reminds me of being in elementary school!" senior Zarin Hasan remarks.
Similar to homecoming, the dress-up days leading up to prom are meant to facilitate school spirit and give students a good experience prior to the event itself.
"If I'm being honest, I think I like homecoming better just because of how many more people get dressed up and hyped for it," senior Deeksha Cirigadi confesses. "But it's not like prom doesn't have its own charm: it's supposed to be a grand high school experience."
For Prom 2023, the theme of the night is a masquerade. Students are encouraged to wear masks at the event, an interesting new prospect that gives students a bit more excitement than a normal dance would.
"I really like the theme! It feels very unique compared to the previous ones that were done," Hasan states.
It seems that many of the seniors enjoy this year's theme and are excited for the event. We'll see you at Frisco Hall at 8 p.m., seniors!
About the Contributor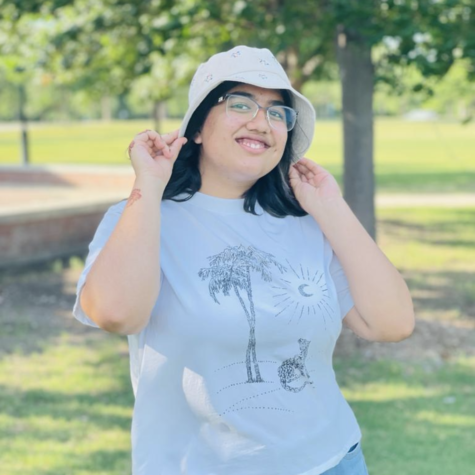 Uswa Saeed, Editor-in-Chief
Hi! My name is Uswa Saeed. I'm currently a 12th grader at Centennial High School, and this is my third year writing for Cen10 News. Writing has always...