Senior Spotlight: Celebrating the Achievements of Our Graduates
As the 2022-2023 school year comes to a close, we take a moment to recognize the accomplishments of our graduating seniors. These students have worked hard over the past four years and have made an impact in their own unique ways. From academic achievements to extracurricular involvement, these students have shown dedication and perseverance in all that they do. As our seniors prepare to move on to the next phase of their lives, we are excited to see where their passions and interests will take them. Our graduating seniors will continue to make significant contributions to their communities and beyond. 
The class of 2023 has demonstrated a remarkable level of talent, creativity, and commitment, and we are confident that they will continue to achieve great things in the future. In honor of graduation, here are a few seniors we'd like to recognize. 
 Sean Ratcliff is one of the senior students that came to Centennial during his senior year. He explains  "I was all over the place during high school because I moved a lot but I want to say that, out of the three high schools I went to, Centennial has to be my favorite. The teachers and staff have been incredibly supportive and the student body was incredibly welcoming. My favorite part was probably all of the fun memories I've made with my classmates this year." 
Sean's goals for the future is to graduate with a masters in computer science and get a job with Samsung under programing. 
Our seniors have also been involved in a wide range of extracurricular activities. They have participated in sports teams, music ensembles, theater productions, and volunteer organizations. Their extracurricular activities have helped them develop valuable life skills, such as leadership, teamwork, and effective communication. They have also made a positive impact on our school community and beyond through their volunteer work and community service.
Sarah Ruenes has been at Centennial all four years, Sarah has been involved in several extracurriculars including NHS, Whole Child Committee, PALS, NHS, and superintendent advisor panel where she was able to speak at the Capitol. 
"I love coming to school and seeing my friends and favorite teachers that encourage me everyday! With all the love and support I've received in the past four years I will be playing D1 soccer at the University of North Dakota. "One of the goals I have is making school records!" (Sarah Ruenes) 
Ava Gage has been at Centennial all four years, she's been a part of several different organizations such as Sweethearts, student council, NHS, and NHSDA. Ava shares "These four years have been so special to me! I started out super shy freshman year but over the years I have definitely grown more confident with the help of my teachers and friends. Through the different organizations I've been a part of I've had the opportunity to create so many amazing memories, and experiences, and friendships that I will keep with me forever. 
"My favorite part of Centennial is definitely the support system that I have found. No matter if we won or lost a football game, or even if I just took the worst math test of my life, there has always been somebody there to support me through it. I always feel welcomed at Centennial and I leave each day feeling grateful for all the people there." (Ava Gage) 
Ava has committed to Texas A&M University for the fall. She will be majoring in psychology and her goal is to try out for the Aggie Dance Team and she hopes to eventually obtain her masters and PhD to become a licensed professional counselor. 
Parmida Moallemy has been at Centennial for the last four years. Parmida is a member of the art club at CHS and has recently won the outstanding citizen award. 
"Over the past four years, I have persevered through many obstacles. High school was a lot of hard work with several ups and downs but I am really glad I gotta make it out. My favorite part about Centennial was definitely the art department." (Parmida Moallemy)
Parmida has committed to studying interior design at UTA and her goal is to get her bachelor's degree. 
Kaitie Neill is a part of the basketball and soccer team at Centennial High School. Kaitie mentions "The last four years of high school had its ups and down, especially because of COVID-19, but I am so thankful for the memories and friendships I've made along the way." 
"My favorite part about Centennial would probably be my experience playing basketball and soccer for some amazing coaches that taught me so much. I am really excited to play soccer next year and further my education at the University of Mary-Hardin Baylor. I look forward to applying all that I've learned at Centennial to my college experience." (Kaitie Neill) 
Lastly we'd like to thank our newspaper seniors for such a wonderful and successful year. They've been such great role models for all the underclassmen and each of them deserve recognition for their hard work. 
Uswa Saeed is the newspaper team editor in chief. Uswa is an extremely talented writer, she has the most creative ideas. Uswa is extremely approachable, if we're struggling with anything, personal or school related Uswa will always be there. Uswa has been someone we look up to and she's been a major contributor to our newspaper team. 
"If I had to summarize my high school experience, I would describe it as a roller coaster. There's a lot of ups and downs, but at the end of the day, the experience was a chance for me to grow as a person. My favorite part of Centennial is the people I've met here. This place helped me form bonds with people that I hope to keep throughout college and afterwards as well. Some goals I have for the future are to be organized and more productive in college, and to surround myself with good people." (Uswa Saeed) 
Uswa has committed to UT Austin and she plans to be a journalism major. 
Riya Patwardhan is the other editor in chief of our newspaper team. Riya is the sweetest, most considerate, and exciting person to be around. Riya can get along with anyone, she's super easy to talk to, and always leaves a smile on our faces. 
"My four years of high school have been stressful but still really fun. I've had a lot of new experiences and I feel like a completely different person than when I first came to Centennial as a freshman. My favorite part of Centennial is how the school's environment encourages me to be my best. Some goals for the future are to work my hardest in college, make new friends, and have a great time there." (Riya Patwardhan) 
Riya has committed to UT Austin and she is going to be studying business finance. 
Amandine Alexander aka Mandy is extremely talented, whether it's in newspaper, physics, or art Mandy is an all rounder. Mandy is a kind hearted, fun, approachable, and caring person to be around. Mandy is a great student and extremely smart, she's always there to help.
"My four years of high school have been complicated. I've only been at Centennial for the past two years, so it's been quite chaotic and I've worked hard the entire time just to stay afloat. My favorite about Centennial has to be the people here. I love my friends and I love some of my teachers; they're some of the kindest, most intelligent, caring people I've met, and they're all very easy to talk to. (Amandine Alexander) 
Mandy hasn't committed to a school yet, but she's deciding between Northeastern and Brandeis University! 
Rushil Kannery is the one and only male member of the newspaper team. Rushil has been the entertainment of the classroom. He's so enthusiastic and always wants to go outside, he's extremely helpful inside and outside the classroom. Rushil has become some that we look forward to seeing. 
"The past four years have been a great journey, full of wonderful people and ideas. I loved making new friends here. Some goals for the future are exploring more about business and possible career paths and finding what to do with my life." (Rushil Kannery) 
Rushil has committed to UTD majoring in business administration. 
As we say farewell to our graduating seniors, we offer them our heartfelt congratulations and wish them all the best in their future endeavors. We are honored to have been a part of their lives and are excited to see what the future holds for each and every one of them.
About the Contributor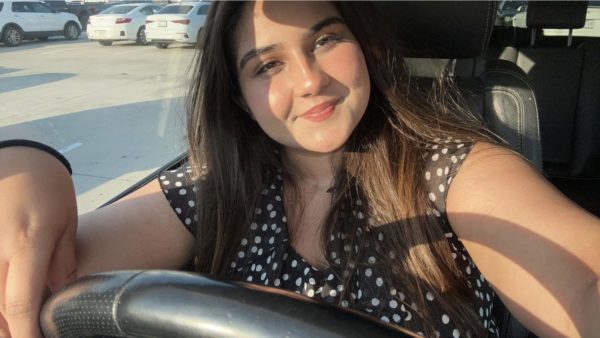 Sana Hajidamji, Editor-In-Chief
Hi, my name is Sana Hajidamji, I am currently a senior at Centennial High School. I am from Los Angeles, California and I moved to Texas in 2020. I have...