Grand Dreams for Grand Park
FRISCO, TEXAS- Last week, you may have gotten an announcement in Canvas asking you to fill out a Google form about the upcoming Grand Park. Aiming to be larger than Central Park, there is a lot of excitement surrounding Frisco's newest project. Well, not exactly new. 
The city had been planning to build this park for years, but the land they planned to use, just to the west of Dallas North Tollway and north of Stonebrook Parkway, was initially owned by Exide Technologies. After Frisco purchased it, the company had to take time to clean the site up, as there was leftover contamination from the battery recycling plant originally in the area. Although there's still plenty of cleanup for the city to do before making Grand Park, many people are delighted by the possibilities it holds. 
"I wanna see people encouraged to go out and about again, getting back to normal life after the pandemic," junior Athul Mohanram states.
It will be a while before the park is open to the public, though; Frisco officials estimated that the cleanup will take anywhere from five to seven years. However, there are plans to start making some of the property available this year. 
"This may be as simple as cutting some quick trails through the property — or maybe just a trail loop, but you got to start somewhere," Frisco Mayor Jeff Cheney says. "This would allow people to start engaging with this great asset as we start planning phase one."
Frisco officials are putting a lot of thought and effort into the production of Grand Park. From asking for input during Coffee with the Mayor to sending out a preferences form to high schoolers, they are including Frisco residents during every step of the process. 
"Frisco is spending $20M + to create Grand Park, a 1000+ acre development bigger than Central Park in New York," the Google form states. "Frisco would like your feedback and advice on how it can better tailor the park for teenagers."
Everyone has high expectations for the park, and surely, with all the spacious land and fun activities, it will not disappoint. 
"I hope the park serves as a community center where people can hang out with their friends and connect with each other, learn new things, and explore what it means to be in Frisco," CHS student Anushka Khatri conveys. 
About the Contributor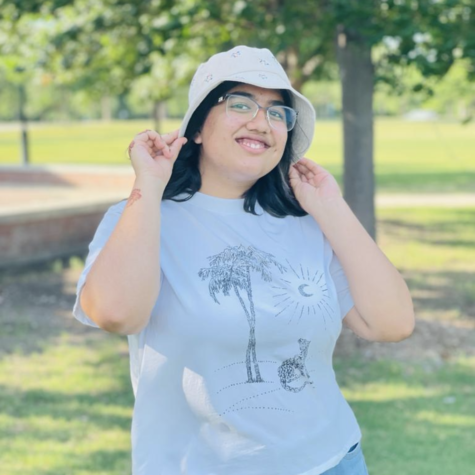 Uswa Saeed, Editor-in-Chief
Hi! My name is Uswa Saeed. I'm currently a 12th grader at Centennial High School, and this is my third year writing for Cen10 News. Writing has always...