The Frisco ISD podcast invites Centennial High School's student-athlete Brianna Hamilton to speak over her athletic journey
CENTENNIAL HIGH SCHOOL- The Frisco ISD podcast is an extraordinary platform that promotes and displays ideas within the city of Frisco and beyond. In the most recent episode of this podcast, Centennial High School student-athlete Brianna Hamilton got invited to speak over her athletic journey and experience as an athlete in FISD. Brianna Hamilton is a junior in varsity volleyball who is exceptionally hard working in the classroom as well as on the court. In the episode "Flourishing in Frisco as a Student-Athlete", Brianna spoke with FISD's athletic facilitator Matt Wixon and they talked over the most frequently asked questions regarding sports in FISD and Brianna's experience as an athlete in FISD.
Brianna is a part of the Frisco AD Student Leadership council which is a student leadership program, and through this program she was asked to be a guest speaker on this podcast. Brianna was in contact with Matt Wixon through email and they spoke back and forth about what they would talk about and how they would record it. They later recorded the podcast episode on October 13th after school for 15-20 minutes.
"Initially I was nervous and it was definitely a nerve wracking process because I had never done something like this before. Though Mr. Wixon did email me the questions prior to the interview and he did make me feel comfortable when we were recording, it was a quick conversation and we did go off topic a couple times. But overall it was such a cool experience because it was the first time I've been in a podcast environment/setting," Brianna Hamilton said.
"I am glad I got to speak about my experience at FISD and I am glad that they decided to highlight girls volleyball because Texas is crazy about football and boys athletics is completely different from girls athletics and so it was great talking about volleyball and highlighting the team and sport,"Brianna Hamilton said.
The Frisco ISD podcast has over 20 episodes all ranging from 10 to 35 minutes, most episodes displaying questions answered by people that have great knowledge and experience in the topic of choice. Brianna does happen to be one of the first students to be a guest on this podcast. If you're interested, The Frisco ISD podcast is available on Spotify and Apple podcasts. As a podcast host myself, I appreciate that podcasting itself is such a great way to portray ideas, information, topics, different perspectives, it's unique and accessible.
About the Contributor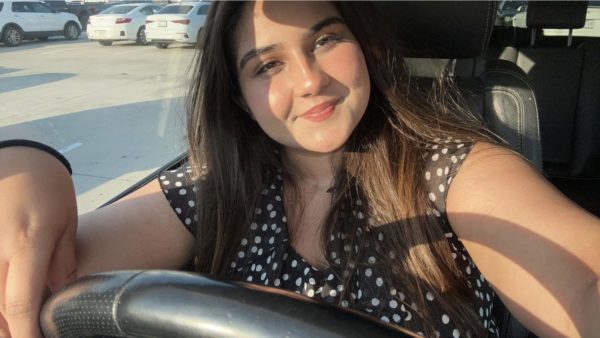 Sana Hajidamji, Editor-In-Chief
Hi, my name is Sana Hajidamji, I am currently a senior at Centennial High School. I am from Los Angeles, California and I moved to Texas in 2020. I have...