A Night On The Paper Town
The highly awaited "Paper Towns" movie based off the best selling novel by John Green was released July 24. The anticipation for this movie had been growing since the announcement of the adaptation of the book coming to the big screen. Copies of the book were flying off the shelves and the buzz of "Paper Towns" filled social media. At last, many fans filled AMC and Cinemark theaters with buckets of popcorn and Slurpees ready to watch the movie take the big screen. Screams erupted in the theater as the movie began playing.
"
The movie strayed from the typical fairy tale ending which helped differentiate "Paper Towns" and allow it to stand out from other teen movies."
— Sara Sinnathamby
The movie tells the story of high school senior, Quentin Jacobsen (Nat Wolff), and how he juggles all things from school to prom to girls and everything else that falls in between. Most of the movie revolves around the fact that Quentin, commonly knowns as Q, is madly in love with his neighbor across the street, Margo Roth Spiegelman (Cara Delevingne). Q and Margo are polar opposites. Margo is popular, known as the queen of the school while Q lays low with his two friends in the band. The two haven't spoken since their childhood friendship until one night when they reunite in a wild adventure motivated by revenge. Though shortly after their night they will never forget, Margo disappears forcing Q to put together clues that lead him and his friends on a road trip across the country to find Margo.
When "Paper Towns" took the stage, it filled the expectations of many, including myself. The novel gave the reader a sense of adventure that kept them on the edge of their seats that was portrayed vastly in the film. Through every laugh, gasp and enjoyable moment, "Paper Towns" kept me engaged from the opening title until the scrolling of the credits.  One of the most shocking moments was not within the story itself but when Ansel Elgort, Wolff's co-star from "The Fault In Our Stars," made an appearance as the gas station attendant. The film took me (and everyone watching) on a road trip across the country, as we watched Q try to fulfill something we like to call love.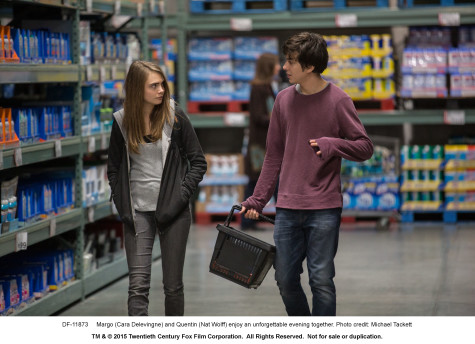 Though the movie seemed to differ from the book, as every film adaptation does, "Paper Towns" left me warm hearted and exceeded the movie's high expectations with flying colors. It is highly encouraged, if you haven't seen the movie already, to still go see it while it is still in theaters. Go grab a bucket of popcorn and a blue raspberry Slurpee and go enjoy the adventure that "Paper Towns" takes you on.