Centennial High School Introduces New Sweethearts and Dance Instructor
Dance is a popular elective that students like to take in order to gain their fine arts and PE credit. Due to the retirement of former dancer coach and instructor, Ms. Julie Black, this year, Centennial High School introduces a new Sweetheart director and dance instructor, Ms. Marina Gonzalez. 
Gonzalez was first introduced to dance by her aunt and uncle. As a child, she would attend church with her aunt and uncle and would view dances being performed. After observing these performances, she decided to participate which sparked her interest in the dance arts. Gonzalez enjoyed how dance gave her the freedom to express herself as well as grow her creative skills. 
"I love how dance is so powerful and liberating,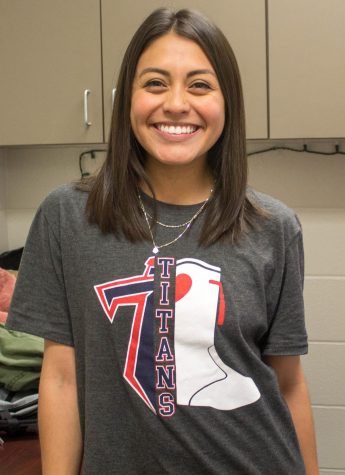 " Gonzalez said. 
Gonzalez participated in studio dancing during her middle school and high school years. It wasn't until her aunt had taken her to view a performance by the Kilgore Rangerettes, an American collegiate precise dance team, where she gained her growing interest in becoming a dance instructor. In order to aid in this journey, Gonzalez transferred schools where she was able to participate in a high school drill team. After joining, she wanted to be more involved and became captain of the dance team during her senior year of high school. Becoming a rangerette is something she enjoyed and cherished.
"I really loved the amount of networking that we got to do, I loved the traveling, and I loved the fact that I was a part of a well-established legacy of women with not only talent but high standards," Gonzalez said. 
After attending Kilgore Junior College, Gonzalez attended Texas Women's University to expand her knowledge of dance arts. 
This year is Gonzalez's first year as a dance director. Prior to this position, she was an assistant director at Liberty High School for two years. Gonzalez mentioned she loves every part of being a teacher and seeing students open up weather it's within their skill set or their personalities. Not only this, she included how she enjoys seeing her dancers within a different type of setting, 
"I think it's very cool for me to see kids in a different and in a very vulnerable light and to watch them be brave and watch them tackle challenges head-on." 
One thing that Gonzalez wanted to inform dancers was that every moment matters, whether it was a good or a bad rehearsal and that there is always an opportunity to learn and improve. 
"I think that everyone should take dance at Centennial because everyone can dance and that it's a lot of fun and a good opportunity to connect with others and there always is something to learn whether its a set of skills, or learning how to work with other people, or learning how to be creative," Gonzalez said.  "There is a lot to take away from dancing."