BTS' Newest Album BE: Worth the Listen?
Just a few weeks ago, the increasingly popular K-pop group, BTS, released their newest album titled BE. The boys' first self-produced album has been a hit, being their fifth album to debut at number one on the US Billboard 200. BTS was also the only act besides Taylor Swift to simultaneously enter the Hot 100 and Billboard 200. Additionally, its lead single Life Goes On premiered at number one on the US Billboard Hot 100. This fascinating collection of songs explores a unique style of music, topped off with gorgeous lyrics and composition. 
Overall, this album is very focused on life during the pandemic, and how, despite all the trouble, it's important to remain hopeful for the future. These songs that they worked on, mostly by themselves, are unlike any of their other albums. With all the liberty the boys had, they explored their sound more by stepping away from mainstream music and trying hip-hop, ballads, retro and some other styles. 
In my opinion, although this wasn't BTS' best overall tracklist, it definitely had its moments. Here are some of my thoughts on each song:
Life Goes On:

This title track's tone is much more gentle and calming, providing soothing vocals and a slower tempo. It gives off the feeling of peace, a bit like riding in the car on a road trip. The lyrics focus on comforting and providing hope to people in a time where things are crazy and the world has changed. If you prefer more mainstream pop and upbeat songs, this may not be for you.

Fly to My Room:

This refreshing song talks about the boredom and loneliness that is commonplace during this time when we are mostly restricted to our bedrooms. It sympathizes with these feelings, yet brings a more hopeful outlook to it. Personally, it's not as unique-sounding to me as the other songs are, but the message is sweet nonetheless.

Blue & Grey:

This is by far my favorite song to listen to on the album. The vocals are mind blowing, the instruments are easy on the ears, and it makes you want to cry listening to it. The guitar ballad focuses on artist burnout and depression, and has listeners acknowledge the darker parts of a seemingly perfect idol life. Its calming nature and sound unlike any other makes this a special song.

Skit:

This isn't a song, but rather, the members discussing their feelings on their achievements, or more specifically, receiving the announcement of being No.1 on Billboard. It may feel a bit out of place if you're just trying to listen to the music, especially if you don't speak Korean, but reading the translation provides insight into the boys' playful yet sincere personalities.

Telepathy:

The retro beats in this track are very cheerful, while they sing about missing ARMY, their fanbase. This song is much happier and uplifting, with rhythms that make you want to dance. It doesn't exactly fit the mood of the first few songs shown, though. 

Dis-ease:

This song is also brighter in comparison to most of the other tracks. Like many other songs on the album, they discuss the uncertainty of this unprecedented time, but also remain optimistic for the future. This song has a very hip-hop feel to it, and its upbeat nature makes it one of the better songs on the album.

Stay:

This is possibly my least favorite song on the album. It's not that the funky EDM beats don't sound uplifting, but rather it's not my preference, and sounds much more typical. However, the message of BTS missing their fans, ARMY, is very heartwarming. 

Dynamite:

As you may already know, this song was originally released as a single back in August. Even so, it's nice to hear it again, since it leaves the album on a lighter and more upbeat note compared to some of the earlier tunes. 
Taking everything into consideration, I can confidently say that this album was one of the best, though not the actual best, of the tracklists they made. From the different and unique styles they experimented with to their growth as producers, composers, and singers/rappers, the album was a journey and provided comfort and hope to many fans. Other than their fanbase, ARMY, I definitely recommend this to anyone exploring the K-pop genre, or even people who don't normally listen to this music that are willing to explore different music genres. This is the kind of album that mostly everyone can find something to enjoy within it. 
About the Contributor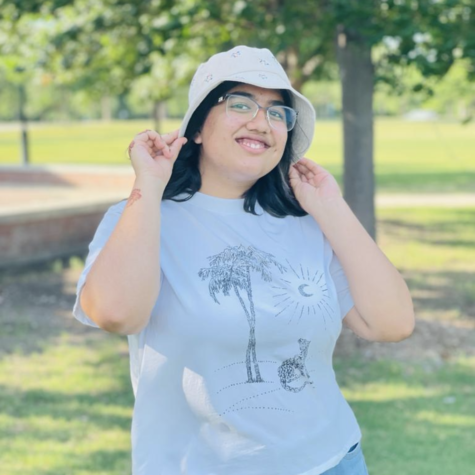 Uswa Saeed, Editor-in-Chief
Hi! My name is Uswa Saeed. I'm currently a 12th grader at Centennial High School, and this is my third year writing for Cen10 News. Writing has always...