Netflix… And Scare? Here are some movies to watch this Halloween
CENTENNIAL HIGH SCHOOL- It is officially that time of year: the horror, the thrill, and the spooky season scare. Early October and everyone's already talking about Halloween, the costumes, the candy, and the scary movies. Everyone has a movie they choose to watch this time of year;: "Casper", "Hocus Pocus", "The Nightmare Before Christmas", "Coraline", "The Addams Family", "Ghostbusters", "Scream", etc.. These are all examples of the most popular and classic movies that make a comeback every October. But also, during this time, theaters are filled with new horror movies and every Halloween people wait for the adrenaline rush and the scare that the horror entertainment brings. So that leads to the question: do we prefer.Do we prefer the classic Halloween movies that everyone watched as a child or do we prefer the new scary movies that bring the rush? 
One of the most popular movies that everyone watched as a child and was a holiday season favorite for years is "The Nightmare Before Christmas". "The Nightmare Before Christmas" is a fictional story that came out in 1993 and is rated PG. The film's storyline is based on main character Jack Skellington, who is Halloweentown's Pumpkin King and becomes bored with the same annual of frightening people in the real world. Jack comes across Christmastown, and he plots to bring Christmas under his control by kidnapping Santa Claus and he schemes to take over the holiday. "The Nightmare Before Christmas" is a timeless classic that still entertains, and is available to watch on Disney + and Youtube. 
"Coraline" is another timeless classic that has been labeled as one of the best animated films ever made. "Coraline" is a fictional story that came out in 2009 and is rated PG. In the movie, a girl named Coraline is exploring her new house, and she finds that there is a secret door, behind which lies an alternate world that closely mirrors her own but, in many ways, is better. Coraline had entered another world not knowing the consequences that came with opening the door. This led to Coraline having to use all her resources and bravery to make it back to her own family and life. "Coraline" is a must-watch movie. The plot, the character, and the animation is fascinating and brilliantly developed. "Coraline" is available to watch on Prime Video. 
The last Halloween classic, "The Addams Family", was a surprise hit in 1991 when it first came out and continues to be one of the Halloween favorites. "The Addams Family" is rated PG-13 and is based on a man who claims to be Fester (the missing brother of Gomez Addams). However, other characters seem to believe that the man is a fraud, since he cannot recall details of Fester's life. With the help of a lawyer, Fester manages to get the Addams clan evicted from their home. Gomez realizes the two men are conspiring to trick the Addams fortune and that he must challenge Fester. This Halloween hit is a series and has 4 additional movies to the sequel. The most recent one is "The Addams Family 2", which came out in 2021. If you wanted to watch this movie it is available to watch on Prime Video with a subscription. 
Currently in theaters, the movies "Smile", "Don't Worry Darling", "Halloween Ends", "The Invitation", and "Terrifier 2" are the trending horror films that have been released recently. Most of these movies are rated R and are known to be thrilling, exciting, and scary. 
The movie "Smile" focuses on therapist Rose Cotter, who witnessed a traumatic incident involving a patient. Dr. Rose Cotter starts experiencing frightening occurrences that she can't explain. As an overwhelming terror begins taking over her  life, Rose must confront her troubling past in order to survive. This movie is one of the most talked about films that is currently in theaters. 
If you're interested in watching spooky movies and want to prepare for the Halloween season, Freeform's "31 Nights of Halloween" began on October 1st, and this year's line-up is more spook-tacular than ever. On Freeform, you can watch a spooky movie every day during the month of October and feel the spooky season rush. Whether you're into the classics or the new scares, or want to cozy up on the couch to whatever Freeform puts on, you have plenty of options to get you in the spirit.
About the Contributor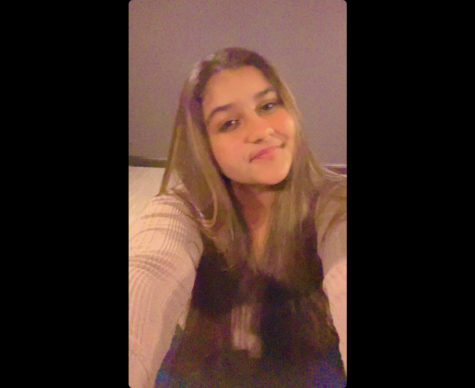 Sana Hajidamji, Reporter
Hi my name is Sana Hajidamji, I am currently a junior at Centennial High School. I am from Los Angeles, California and I moved to Texas in 2020. I also...