The State Fair of Texas Food Review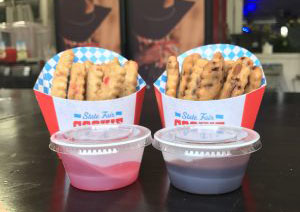 It's the time for fried foods, fun games, and wild rides (but most importantly the fried foods), The Texas State Fair. We interviewed some of the creators of these delicious fried foods and later tried their creations.
First we tried some of the featured contest foods at the fair. The Fried Jell-O® was voted the best taste at the fair, but we had different opinions about it. Personally, my Fried Jell-O® was not up to par with the picture on the state fair website. Inside the ball, it was mostly cream and there was only a tiny amount of Jell-O®. If you look at the picture on the official Texas State Fair website (http://bigtex.com) you'll see that the whole ball was filled with Jell-O® so naturally I was disappointed with what I had been given for the price I had to pay ($8 by the way). I give the Fried Jell-O® a 1 /5 rating.
The next thing we tried was the State Fair Cookie Fries. These came in two different flavors, chocolate chip and sprinkles, along with a strawberry and chocolate sauce. My partner, Caroline Carrillo, though that both flavors were really sweet and although they filled her cookie craving, she definitely could've used a drink to counteract the sweetness. Even though they tasted good when warm, once they cooled down they hardened and became crunchy. At this point, the Cookie Fries just didn't have the same texture and flavor. Because of this she gives the State Fair Cookie Fries a 4/5.
Lastly, she tried Fernie's Down Home Chicken Pot Pie Pocket with Mac 'n Cheese Dip. It was definitely a comfort and was everything (and more) than she expected. The Pot Pie Pocket was bursting with tons of comforting and savory flavors. It's a really good idea to go and pick this up at the on a cold day at the fair. She gives the Fernie's Down Home Chicken Pot Pie Pocket with Mac 'n Cheese Dip a 5/5 rating.
If you have a chance to go to the State Fair, then go ahead and give the cookie fries and chicken pot pie pocket a try!