Notre Dame, No Place Like Home
"How does one describe, for those who haven't spent years here, how special this place is?" —Father Hesburgh, in his 1987 valedictory to alumni and friends
Notre Dame, located in South Bend, Indiana, is considered one of the world's most prominent Catholic universities. Originally named L'Université de Notre Dame du Lac (The University of our Lady of the Lake), it was founded by eight French priests, members of the Congregation of the Holy Cross, who were awarded 524 acres of land in 1842 by the Bishop of Vincennes. The university was later chartered in 1844.
"
"This university is now home to 8,462 undergraduate students and 2,230 graduate students"
This university is now home to 8,462 undergraduate students and 2,230 graduate students pursuing 26 doctoral, 11 terminal master's and four professional master's degree programs in 30 university departments, institutes, and programs in engineering, humanities, sciences, and social sciences. Additionally, according to statistics about the 2014-15 school year, about 72 percent of these students are enrolled as Ph.D. students.
The campus is very spacious, and includes 16 male dorms and 14 female dorms. The dorm my uncle stayed in when he went to Notre Dame, Cavanaugh Hall, is now a female dorm! There are two large gyms for students, each on the other side of campus, as well as a giant library, called Hesburgh Library, located at one end. As the university is fairly isolated, away from major cities, it is essentially a self contained community.
When we went for a tour, our guide, Kathleen, described her experience at Notre Dame.
She said she applied to the university at the end of high school, and didn't get admitted. She was accepted to UC Berkeley, and went there as a freshman. However, Kathleen said she didn't feel that UCB was right for her, and at the end of the first year, was accepted to Notre Dame as a transfer student.
Her major was romance languages; Italian, Portuguese, and French. Kathleen spoke about the surprising opportunities a major like that allowed her; she could be a translator, a communications specialist, most anything to do with foreign languages. She was even a part of the Olympics in Brazil, translating!
During her sophomore year, Kathleen studied abroad in Bologna, Italy.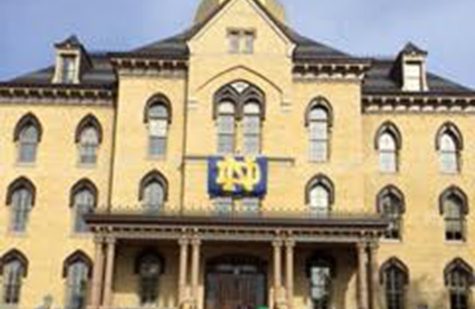 More than 50% of students at Notre Dame study abroad. Notre Dame is said to be very flexible, working with other organizations, universities, and programs to make sure students are getting all sorts of opportunities. Tuition, room, partial board and worldwide health insurance are covered for semester and full-year programs. All the students need to pay for is the study abroad fee, around $750, and round-trip airfare.
Kathleen found a program that pulled from many colleges. She went to school in Italy with students from Cornell, Indiana University, and many more. Because of her fluency in Italian, she did not even attend the English school. She studied in the Italian college there, learning in Italian with all the other native speakers. One of her classes included a textbook written by her professor at Notre Dame.
Back in Indiana, there is also much to do. Class sizes are rarely more than 150-200 students, and that is only the case in general-ed classes, like biology and English. The average class size is 20-30 students, similar to Centennial.
Many teachers also seem very involved. Kathleen and other students all said the opposite was a common myth. Every teacher genuinely wants to help you learn as an individual, and is more than happy to put in extra time and effort to help you reach your goals, whether academic or outside the classroom.
"
"When my father was younger, he went in for an interview and noticed that the boss was from Notre Dame. He mentioned that his brother also went to the school and was instantly hired, no more questions asked."
— Alexandra Chandler
The alumni network at Notre Dame is also impressive. When my father was younger, he went in for an interview and noticed that the boss was from Notre Dame. He mentioned that his brother also went to the school and was instantly hired, no more questions asked. Every graduate of the university has intense school pride, and will go out of their way to help another Notre Dame alum.
As mentioned earlier, there are an almost equal number of dorms on the campus. Most students choose to live there for three, sometimes four years. Because the college is self-contained, many don't see the point of moving off campus. Further motivation to stay in dorms is that Notre Dame does not have Greek life. Each dorm, called a hall, has a great sense of pride, acting as sororities and fraternities anyway. They compete in intramural sports, organize events, and look out for one another. Because many dorms pick a weekday to hold a second mass (remember, this school is very Catholic) they invite other dorms over to eat and have fun. One holds a milkshake Monday mass, another holds a donut Wednesday, etc.
Notre Dame also has many traditions. Many buildings have nicknames the students assigned them, with places such as Hesburgh Library becoming Hess Hall. There were many reports that before a game, at around six in the morning, the football team will run through the reflecting pool in front of Touchdown Jesus. Touchdown Jesus is a very famous part of Notre Dame. He is called this because in some areas of the football stadium the mural of him can be seen through the field goal, with his hands held up in a 'touchdown' pose.
The campus has some important museums and displays, both undergraduate and graduate science labs, and a very well-respected law school.
Another important area on the school grounds is the Grotto of Our Lady of Lourdes. Kathleen told us the story of the founder of the school who saw the original shrine in France, where the Virgin Mary is said to have appeared to Saint Bernadette on 18 occasions in 1858. He decided to recreate it in his school, and one-seventh the size, at the university. It even includes some rocks from the original shrine. This is where many come down to pray and light candles. The Grotto is always ablaze during midterms, finals, and the night before football games. Many have proposed in this place, masses are done here, and the rosary is read at 6:45 every night, rain or shine, every day of the year.
A sense of community along with the historic traditions, it is evident why Notre Dame is a school many dream to attend. The embellished details in the history of the campus, as well as the intricate designs of the school grounds, Notre Dame makes a name for itself and will be receiving my application soon.