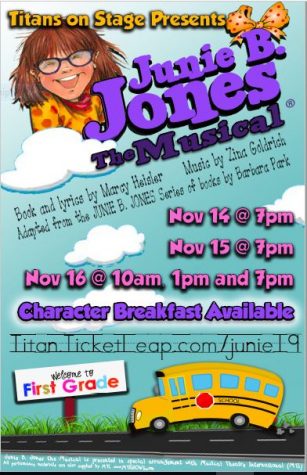 CHS Theatre has been working hard on a new production since September, called Junie B. Jones, The Musical. It is a play about a young girl named, you guessed it, Junie B. Jones, and her journey through first grade. It will be performed in November, and the cast is thrilled to put it out there for people to see.
"Yes, I'm excited, our two leads are amazing," senior Ali Abueid playing, who will be playing Mrs. Gutzman, stated about the play. The lead roles will be played by Tanya Mahmood and Cece Keating. Other notable characters are Lucille, Junie's best friend, played by Maddie Smiga and Alexi Bowker, and Herb, played by Giovanni Huidor and Shouri Gomatham.
It will be a musical, so there will, of course, be singing and dancing, and if the talent is anything close to Theaters' Newsies show from last year, we are all in for a treat. There are 7 dancers featured in the show, and they're all very excited to put on a show for their friends and family.
Tech member Shantanu Velnati shared some of the interesting new things about the upcoming performance.
"We got a brand new sound system, so it'll be cool to see that in use," he said. The new sound system is promising and definitely better than before.
In terms of props, the audience will be seeing the use of a multipurpose stage, and backdrops that set the scene. It will be interesting to see how they transition from scenes on a school bus to scenes that take place in completely different locations.
It will be performed on November 14th and 15th at 7 p.m. and the 16th at 10 a.m. and 1 p.m. and 7 p.m. Tickets are available at the door or can be purchased online at www.buymyjbjticketnow.com. Be sure to come out and support your fellow Titans on stage!