Oklahoma! (Centennial's Version)
CENTENNIAL HIGH SCHOOL- Theater students are known to work hard on all of their shows, and they have proven this yet again with their latest production: "Oklahoma!". The show, which premiered Thursday night at 7 p.m., was nothing short of fantastic. In case you didn't see it on Thursday, Friday, or Saturday, here's a quick recap on how it went. 
Our Titans performed "Oklahoma!", a musical by Richard Rogers and Oscar Hammerstein II, based on Lynn Riggs' "Green Grow the Lilacs". Debuting on Broadway in 1943, this Pulitzer Prize winner entails the love story of cowboy Curly and farmer Laurey, which is, naturally, riddled with hardships. The female lead, Lauren Hallowell, discussed the efforts that went into the show, saying, "So we started off rehearsals in November… from December till January, it was basically finishing up whatever we had not done and then running it for like two weeks". The Centennial students' adaptation is stunning, the result of the fine art students' hard work, and we got to see that blossom during their performances last week. 
When I went to see the musical on opening night, I was blown away by how well everything was put together. The first thing I noticed was the set, which was detailed, gorgeous, and established the setting well. Their sets were made up of a few big items which they rolled on and off stage efficiently during set changes, excluding the hay bales, which remained constant. Additionally, the acting was amazingly realistic despite the fact that they had to speak in country accents, and all the actors appeared to have good chemistry with each other. I especially loved the fight scene and how well they acted through all the motions. All of the actors had beautiful and stable singing voices as well, even while moving, although you could often hear the sound of air coming through their microphones. Overall, they expressed their emotions really well through their singing and managed to match the tune of the wonderful band and orchestra members performing alongside them. Another outstanding part of the performance was the dancing, which was very well-choreographed and smooth. They were, for the most part, synchronized, and worked really well together to move as one unit. My favorite part was during Laurey's dream, when they did a dance sequence behind a screen while the tech staff created fog, which created a shadow performance that was mesmerizing to watch. 
All of these pieces worked together to create an exceptional musical that beautifully wove the story of Laurey and Curly. Our fine arts Titans did a fantastic job creating and putting on this show for the rest of Centennial to enjoy. Hallowell reminisced on the experience, commenting, "It's really nice to be able to get an opportunity to create… and see it come alive on stage."
About the Contributor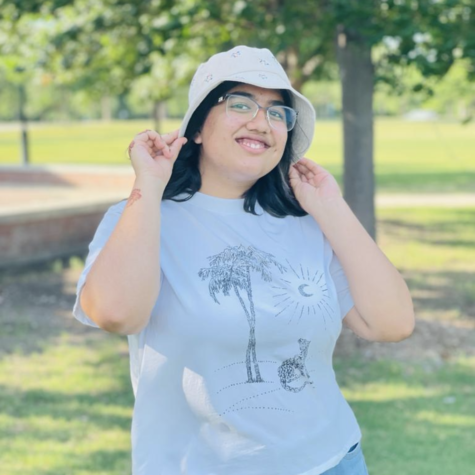 Uswa Saeed, Editor-in-Chief
Hi! My name is Uswa Saeed. I'm currently a 12th grader at Centennial High School, and this is my third year writing for Cen10 News. Writing has always...