Out with the Old, In With the New.
Another season, another story. As the new season begins in Basketball, the Titans have changed it up yet again with another JV coaching staff change. Centennial has brought in Taylor Wilson as the new coach for the Junior Varsity team. Coach Wilson joins us from Sherman HS and Ropesville HS where he held previous coaching positions before coming to Centennial.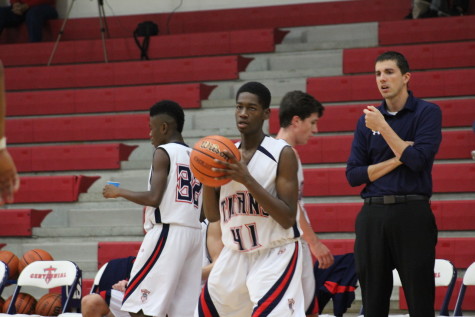 Hayden Fraley and Nkem Nkele are juniors at Centennial, and both are spending their year playing on JV under their second coach in as many years. Last season the team played under Scott Imes, who is now the Director of Operations for Women's Basketball at the University of Texas at Arlington.
"It's been hard to adapt to different coaching styles and the way that they coach," says Fraley. "Mainly I'll try to get to know them well, and then I'll basically play how they want me to."
The styles that he describes are very opposite to each other. Nkem Nkele describes Wilson's coaching style.
"While as former coaches maybe yell, he doesn't really yell, he really explains the game to you more than just yelling at you." Fraley agrees stating, "He's really laid back. He can really let you take over the game."
It's obvious that it's taking time to learn their new coach, but it seems like for the best.
We then spoke with Coach Wilson himself about his new experiences here and joining a new organization and city. When asked about why he chose to go after a job in Frisco, he replied, "I wanted to be in one of the fastest districts in the country, Frisco is well known throughout the nation."
He attributes Head Coach Mike Scarborough as being a motive to want to coach here. "To be good, you got to learn from the best and you got to play for the best, and I'm learning from one of the best coaches in the state."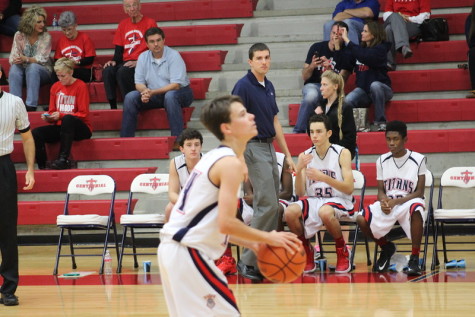 Wilson concluded by telling us that he has been extremely impressed with the players and their commitment to the program and basketball.
"The kids here just love basketball," he says, "Everyday we have to kick kids out of the gym so they'll go home and eat, and that's not something you can coach, I think it's something the kids have instilled in them, and that's been impressive to me."
The JV Basketball team has started off 2-1 in District under Wilson, and they look to continue playing strong as the players learn their coach, and as the Coach learns his players.