Running Around The Track, Yet Again
CENTENNIAL HIGH SCHOOL- Spring semester brings with it a new set of athletes, a combination of both old runners and new. Coach Martin and Coach Jackson are some of the familiar figures that have been coaching Centennial track for years. A cross-country coach as well, Coach Martin is well-versed in the physical exercises involved in running, be it long distance, or short.
Coaching is something that people get better at with experience, and Coach Martin's got a lot of it.
"I've been here [at Centennial] for 15 years, [and coaching in total for] 28 years," says Coach Martin. "It's been a positive experience. Working with kids is always a joy. Helping them reach their goals and helping them set goals and finding the steps forward. It's always really neat to see that," she adds.
With a new semester also comes a new season of track. The winter sport is one that has a lot of participation, and a lot of competition as well. 
"Track season has just started, so we're still kind of finding our way forward with that putting the pieces of the puzzle… you just have to be patient and keep working and find a spot or beat someone out for that spot," comments Coach Martin.
And every year, there's a new group of freshmen, ready to take on everyone else.
"It's fun having new experiences in high school track; [it's]different from middle school track, [and] I like the team and the competition," says Chloe Kim, one of the new runners on the track team.
However, some of the incoming freshmen aren't new to Coach Martin at all, having been coached by her for cross country. And being coached for longer certainly has its benefits.
"Getting to know her over cross country over the summer and throughout the school year has been a lot more beneficial [because] she gets to know me more in a personal way, so she knows my strengths and weaknesses, [and] she can help me figure them out for track," says Georgia Mayfield, another freshman runner. 
And the other athletes agree.
"She pushes everybody to make them better," adds Kaylee Kim, another runner who ran cross-country before running track.
However, with the new athletes comes a string of seasoned veterans, ready for another bite at the competition.
"I really enjoy our team and the commitment that we have all brought to it… this season has started off very good for us… our team has been trying really hard with the new people coming in… we've all been encouraging each other and leading each other the right way," says one of the Lady Titans track team captains, junior Leah Morgan. "Our coaches really do a lot to help us out, they really push us to be the best that we can be, and they also give us the emotional support that we need," she adds.
All of the athletes are really excited for a new season, and a new chance at taking the lead in the competition. GO TITANS!
About the Contributor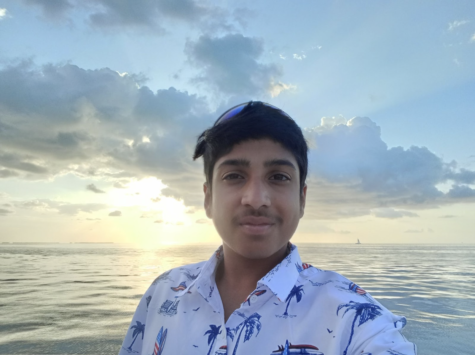 Rushil Kannery, Reporter
I'm Rushil Kannery, and I'm a senior this year. I love reading and writing, a passion which I brought into Cen10 News. I'm also a fan of mathematics,...