Boys Track Takes On Regionals
The region track meet took place on April 29-30th at the University of Texas at Arlington. The boys competed in shot put, discus, 100m run, 200m run, 4×100 relay, and 4×200 relay.
William Petersson competed in the shot put and placed 5th with a throw of 52'04.25″. Petersson also competed in the discus where he came in 2nd with a throw of 181'11" and will is state bound! He will compete in the state meet on May 12 at Mike Myers Stadium at UT Austin.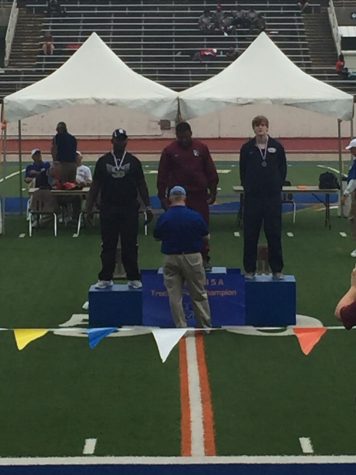 Raleigh Texada finished his last track season after competing in the 100m run and the 200m run. Texada placed 6th in the 100 with a time of 10.9 in the finals. He barely qualified for state in the 200, coming in 5th place with a time of 21.88. Congratulations to Texada for a great track season.
The boys 4×200 relay team consisting of Hunter Williams, Justen Laury, Frank Ohabor, and Jaylin Williams finished their season with a time of 1:29 placing 11th overall in prelims. Congratulations to those boys for making it so far in the season.
The boys 4×100 relay team consisting of Justen Laury, Raleigh Texada, Frank Ohabor, and Jaylin Williams also finished their season with a time of 42.04 placing 10th overall in prelims.
A huge congrats goes out to the boys track team on a terrific season! Congratulations and good luck to Petersson as he competes for the state title in discus!